Silence is golden for politicians
Chandigarh, July 5
In their anxiety not to annoy vote banks, politicians go into hibernation whenever an incident of "honour killing" takes place.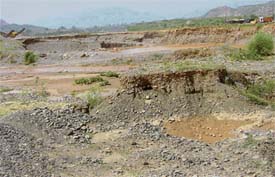 Lives in jeopardy as officials shut eyes to illegal quarrying
Chandigarh, July 5
Official connivance as well as neglect has led to the plundering of government wealth as excessive and uncontrolled quarrying continues in the Kalka, Panchkula, Naraingarh and Yamunanagar areas.
One of the mining sites at Raipur Rani in Panchkula district. — Photo by Malkiat Singh
Real estate firms seek expertise in land deals
Retired officials in demand
Chandigarh, July 5
Retired Haryana officials, having knowledge of the land revenue law, are riding on the crest of real estate boom in the state. They are landing up well-paid jobs with leading real estate companies to advise them on the matters related to land deals.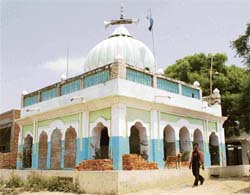 Where the ancient and the modern are in harmony
Panipat, July 5
Residents of the bustling city of Panipat, where a gigantic flyover is under construction to ease traffic congestion, may object if their city is described as a city of death.



Hemu's cenotaph in Sodapur village in Panipat. — Tribune photos by Ravi Kumar
Inside Babudom
Chief Secy eyes post-retirement job
Chandigarh, July 5
Haryana chief secretary Prem Prashant is ready for a post-retirement assignment.
Young Achievers
Woman grapples with Olympic gold dream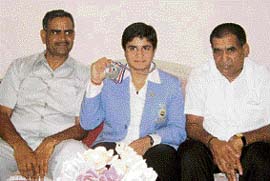 Hisar, July 5
The country's ace woman grappler, Geetika Jakhar, has done it again. She is back from Canada with a silver medal from the Commonwealth Wrestling Championship, which concluded on June 17.
Geetika Jakhar flanked by her coach, Ram Avatar (left), and father, Satbir Jakhar, shows the silver medal she won at the Commonwealth Wrestling Championship. — Tribune photo by P.L. Munday
Rural job scheme yet to impact Mahendragarh
Mahendragarh , July 5
The implementation of the national rural employment guarantee scheme in Mahendragarh district continues to be a low-key affair, allegedly due to the lack of interest among villagers.
Docs' shortage makes hospitals sick
Bhiwani, July 5
Once the envy of other districts during former Chief Minister Bansi Lal's heyday, the health services in this district have been crippled by the shortage of doctors and paramedics.

Once the pride of Haryana, the civil hospital in Bhiwani is now crippled by the shortage of doctors and paramedics.
Proving a boon to villagers in Sirsa
Sirsa, July 5
The excavation of Otu lake, which begun here to boost the supply of water for irrigation purposes to several villages, has provided jobs to many poor villagers living within the 5-km range of the lake under the National Rural Employment Guarantee Act.
Development plan ready for Bawal
Chandigarh, July 5
The state government has approved the draft plan of the industrial town Bawal of Rewari district with a projected population of 1.50 lakh persons for the prospective year 2021 so that the town could be developed in a planned manner.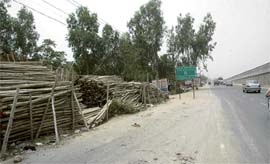 Grey at the cost of green
Environment gets a beating in Gurgaon
Gurgaon, July 5
The emergence of Gurgaon may have arguably catapulted it into the comity of international cities, but the gradual shrinking of its green cover appears to have earned it notoriety.
Encroachments on the green belt along the Delhi-Jaipur highway in Gurgaon. — Tribune photo by Mukesh Aggarwal
Demolition of dustbins in Gurgaon
Commissioner to probe officers' role
Gurgaon, July 5
The new commissioner of Gurgaon Division, Rajeev Sharma, will conduct a probe into the controversy involving top officers of the state government regarding the demolitions of dustbins, set up by private parties to display advertisements. Sharma said the probe would be completed shortly.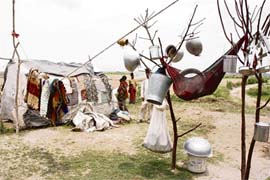 Prized possessions: A family of poor shepherds makes its home on the bank of the Yamuna, hanging its utensils on a dry tree to keep these away from animals in Kunda Kalan village in Karnal. — Tribune photo by Ravi Kumar
Fighting battles in civies
Panchkula, July 5
Lt-Col S.S. Deswal (retd) has no regrets about leaving the army just at the point when he was due to pick up his next rank. That was in 1997 and since then his business, outside, has made rapid strides, progressing by leaps and bounds in the past few years.
Jhajjar's only public library
Leaking roof, crumbling building
Jhajjar, July 5
The only public library of the district, situated in the subdivisional township of Bahadurgarh, is facing the monsoon fury even in below normal rains in the past two days.
Fatehabad may face severe water crisis
Fatehabad, July 5
The water table in this part of Haryana has been rapidly depleting due to excessive pumping out of water through tube wells.