Tale Of Two Countries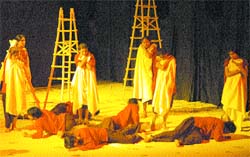 Indo-Pak artistes stage a play, Yatra 1947, at Punjab Natshala in Amritsar on Friday — Photo by Rajiv Sharma
Varsity rides high on survey, says its courses a huge hit
Amritsar, July 6
Guru Nanak Dev University (GNDU), which conducted an admission survey, has claimed that its departments are the best option for candidates planning to join various professional and vocational courses. "There is a mad rush for various courses of the university. The main reason to opt Guru Nanak Dev University courses among the students is the 100 per cent placement of the various IT, management and other technology courses, state-of-the-art infrastructure, peaceful, congenial and education-friendly atmosphere on its campus here," stated a university official.


Walking their pounds away
Amritsar, July 6
When the dawn breaks and dusk descends, the main ground of the Guru Nanak Dev University (GNDU) comes alive with health-conscious residents flocking there to burn those extra calories.



Staying in shape is in. — A Tribune photograph
Singapore excites DAV students
Amritsar, July 6
In a visit to Singapore, students and teachers of DAV International School (DAVIS) got an opportunity to attend many exchange programmes organised by various educational institutions like Huea Chang Institute. The Singapore Ministry of Education conducted a seminar on character development. — OC
A herbal drink to shake off heat
Amritsar, July 6
This summer, beat the heat with a medicated Ayurvedic "sharbat" produced by the Amritsar Sewa Samiti. The drink has become popular and is sold in the market on no profit, no loss basis.




The Ayurvedic 'sharbat' has been developed by Amritsar Sewa Samiti — A Tribune photograph


Not a right message board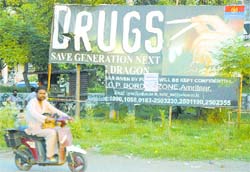 Hoardings put up by the anti-narcotics cell of Punjab police are in a dilapidated state.
Tree plantation drive
Amritsar, July 6
A tree plantation campaign was organised at Government Medical College here today. BJP MP Navjot Singh Sidhu inaugurated it.
Readers, write in
Make 'Amritsar Plus' your very own forum and do yourselves and your neighbours a good turn. Here is an opportunity to highlight civic and other public issues, and air your grievances about government negligence and ineffectiveness, and the apathy of officialdom. Send in write-ups, not exceeding 150 words, to Jalandhar Plus, The Tribune, SCO 20, Ladowali Road, Jalandhar.E-mail: jalandhar@tribunemail. com or jalandhartribune@yahoo.com