Bravehearts
Saurabh Malik
Eleven recipients of Godfrey Phillips Bravery Awards redefine courage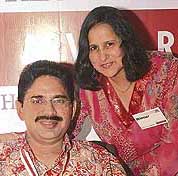 Valour is not just about leaping without looking into troubled waters for pulling someone out of sure-shot danger, but also about overcoming social and emotional handicaps for leading your man on the wheelchair to the hymeneal altar.
Also about drowning your miseries in the click-clank of computer keys writing about the troubles of others, or stepping down the rungs of ladder to social success for spreading messages against pre-natal sex determination tests and HIV/AIDS.
That's right. As 11 bravehearts, mostly from Chandigarh and some other parts of the region, receive the Godfrey Phillips Bravery Awards here for acts of valiancy that redefine courageousness, you realise heroism has lot more to it than 'fear holding a minute longer' for saving lives. It's all about convictions and taking hard knocks when occasion calls.
Among the braves in Chandigarh for receiving the awards are Reenu Balhara and her husband Dr Lokesh Balhara from Rohtak. When they were doing M.Phil together in the early 90s, Reenu took the decision of tying the knot with polio afflicted Lokesh.
Even though the family and everyone around thought the meritorious daughter of a Brahmin income tax officer was divorcing all logic, she took the stand and married the Jat Sikh man of her dreams.
In the same category is Patiala-resident Bhupesh Kumar Chattha. At first glance, he appears to be just a normal guy with a burly physique. It's only when he extends his hand, you realise Chattha suffers from 100 per cent disability.
Both his arms were amputated way back in 1994 after he was run over by a train. Using artificial limbs, the young journalist drives his own car and files his own stories. "Handicap is in the mind! Overcome it and you can conquer the world," he says.
Dr Rekha Mishra has been treating the ills of the society after diagnosing the problems. Even if the line of treatment involves assistance of 'decoy patients', the doctor from Faridabad does not hesitate. She has, in fact, played a vital role in the first conviction for sex determination tests.
Shimla-resident Ranjeet Singh Rana has formed the Parents and Guardians Society of Mentally Challenged and is running not just day-care centres, but also respite-care centres. "My own child is facing the problem. I know what it is like for others," he says.
City-based Gaurav Gaur carries the destiny of so many people in his specially designed carry bag — materials on HIV/AIDS prevention in Hindi, English and Punjabi.
He also carries condoms for free distribution. For, his target audience includes sex workers, even homosexuals and intravenous drug-users.   
For city-based photojournalist Sunil Sharma, it was more than a photo opportunity. He and his friends were en-route to Kasauli when near the Timbertrail Resort the fanatic calls of a roadside vendor made them stop. After learning about a car mishap, Sharma and his friend Anil Mahajan slid almost 75 feet for saving precious lives.
In city-resident Kirandeep Kaur's case, it is reversal of roles. she did everything that's expected of a man. Rowing at Sukhna Lake, the national-level swimmer saw a youngster heading for his watery grave in September 2005. She just took the deep plunge to save the boy from committing suicide.
Receiving a gold medal for 'exemplary courage and presence of mind', she doesn't find anything odd in a damsel coming to the rescue of a guy in distress.      
Hoshiarpur-resident Bahader Singh also saved a life from drowning during a college trip to Himachal Pradesh in October 2002. "For a second, I was dazed with anxiety and fear. But then, I let myself loose and pulled her out before it was too late."
Super-cop Rajendra Thakur did more than just dial help after he saw a bus sliding down the slope near Shimla. "The bus was about to overturn and there was a possibility of landslide. But I crept in and managed to pull five injured. In all 10 lives were saved," says the young constable.
So folks, next time you sense danger, think of them and place others before self. It's worth the mental satisfaction.  
saurabh@tribunemail.com