Still single?
Anandita Gupta
Glowing with confidence and chutzpah, the new-age single woman is on a roll, redefining the age-old equation married woman= happy woman
Just why my head's not bowed
I don't shout or jump about
Or have to talk real loud
When you see me passing
It ought to make you proud
— Phenomenal Woman
Maya Angelou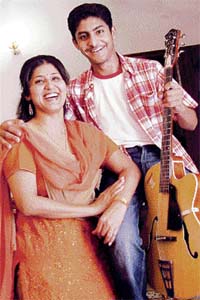 Vandana Maini with her son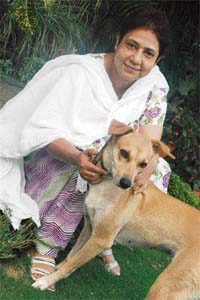 Sherry Sabbarwal
Not long ago, all she evoked was suspicious glances and raised eyebrows. Today, she's convincingly debunked the myth that every woman needs a price charming to complete the fairytale of her life. As she raises the bar for herself, the city's new-age single woman has finally earned what she deserved most — awe and respect.
They may not respond to the same carrots and sticks that motivated their moms. Nonetheless, remaining single — by chance or choice — hasn't stopped these feisty women from leading well-adjusted, successful and happy lives. We chat up some of these steadfastly single and happily house proud ladies.
Zest personified
Vim and verve — two words that perfectly sum up what Vandana Maini's all about. Having taught commerce for 14 years now, this accounts and business management lecturer in Panjab University's department of evening studies has her finger in many pies. From representing the country at Rotary International's cultural exchange programme in the US, pursuing her Ph.D, starting a counselling cell for students and starting a woman's cell, she's done it all.
Having walked out of her marriage at 28, Vandana's anything but bitter. "Marriage is a beautiful institution wherein two arcs join to form a circle. Personally, I'm very much for marriage. But, being in a marriage for the stamp is not right. I gave it my best, but when things didn't look up, I decided to call it quits," she says.
And ever since, she's never looked back. "I have a wonderful extended family, a sensible 14-year-old son and my work. I find my life very fulfilling — teaching, reading, gymming, music and pillow fighting with my son," she smiles.
Thirtyfive-year-old Geetanjali Gill also feels single no longer means lonely. " Nobody frowns upon a single woman anymore; more so as women are financially independent nowadays. Single women are living life to the fullest," beams this consultant with Nabha Foundation, an NGO, who's also into jewellery designing, social service, travelling and lots more.
At peace with herself
Displaying drive that is tough as walnut wood, Sherry Sabbarwal has rewritten the age-old equation — married woman= happy woman. Heading Panjab University's sociology department, this travel freak, animal lover and avid reader believes that marriage has nothing to do with happiness. "Single or married — happiness is all about being at peace with oneself." Staying with her mother, 49-year-old Sherry is at peace. "Reading, travelling, philanthropy and feeding stray dogs — I manage to indulge in all my passions as my money and time is my own," she chips in.
Creative nirvana
Bharatnatyam dancer Suchitra Mitra is another one quite happy with her single status. "Not getting married wasn't a conscious decision, it just happened due to my over-involvement in dance. However, I'm really at peace with myself. My dance has totally fulfilled me and I feel I've achieved my creative nirvana."
"And guess what? Most of my married friends ended up as workhorses saddled with more than they can handle. They had to leave dancing post-marriage and one even had a nervous breakdown."
Against all odds
Fate may have been harsh on her, but 43-year-old Suprita Gill never gave herself a chance to fret over it. After losing her husband at a young age, she started her own company in Singapore and ran in successfully for 16 years. For the past six years, she's been empowering impressionable minds. After qualifying as a professional in speech and drama from London's Institute of Creative Learning, she conceptualised the idea of Magic Minds. Today, she conducts communication workshops in Sanawar, some other schools and aviation institutes.
"I live with my father and 13-year-old son. Besides dabbling in designing jewellery, collecting wall pieces and travelling, I keep myself busy all the time," she avers.
Armed with pedigree and polished by perseverance. Or simple pizzazz combined with promise — these single women are definitely seeing and striving for a fulfilling life as their birthright. anandita@tribunemail.com
— Photos by Manoj Mahajan, Vinay Malik & Malkiat Singh