Japan quake kills 7, leaks radiation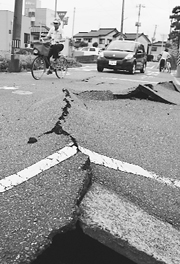 A man passes a crack on a road in Kashiwazaki. A powerful 6.8-magnitude earthquake rocked Japan on Monday, killing five persons and injuring hundreds as it toppled houses and sparked a fire at one of the world's biggest nuclear plants. — AFP photo
Kashiwazaki, July 16
A powerful earthquake rocked Japan today, killing seven persons and injuring more than 750 more as it caused a radiation leak at one of the world's biggest nuclear plants.
In the hardest-hit areas northwest of Tokyo, homes were reduced to rubble and a bridge was nearly cracked in two by the 6.8-magnitude mid-morning quake, which also sent small tsunami waves rolling into the Japanese coast.
Water containing a "small amount of radioactive material" leaked from the massive Kashiwazaki-Kariwa facility, where a fire sent black smoke into the sky for hours following the killer jolt, a company spokesman confirmed.
"But the leakage is believed to be far below the levels that could affect the environment," said Shougo Fukuda, of Tokyo Electric, which operates the plant near the epicentre of the deadly earthquake.
The plant is one of the largest in the world, with four reactors supplying power to the Tokyo region.
The firm said the four reactors in operation this morning stopped automatically but fire broke out in the area supplying electricity.
As dozens of aftershocks struck throughout the day, thousands flocked to schools and other temporary shelters to spend the night and Prime Minister Shinzo Abe broke away from election campaigning to visit the scene.
At least 753 persons were injured in Niigata while two others were still missing, local officials said.
Rescue workers were hunting for anyone buried alive in the wreckage after nearly 300 buildings were flattened by the quake, which shook skyscrapers in Tokyo more than 200 km from the epicentre.
"Everything in my house was a total mess. The television set and washing machine were thrown across the room," said Satoshi Hirokawa, 51, whose house in Kashiwazaki, one of the worst-hit areas, was partially destroyed.
"First there was a sharp vertical jolt and then it shook sideways for a long time and I couldn't stand up ," said Harumi Mikami, 55, a teacher who was at her school in Kashiwazaki City, near the focus of the quake.
Houses were flattened, a temple roof caved in and roads cracked in the quake, which was centred in the same northwestern area as a tremor three years ago that killed some 65 persons.
Firemen and troops worked to rescue a woman after her voice was heard from under a collapsed house, NHK television said, as aftershocks of up to magnitude 5.6 rattled the area.
Meanwhile, bullet trains stopped services in northern Japan after the quake, and again after the largest aftershock, delaying travellers.
A local train toppled from the rails, but media said no one was injured.
Power and gas were cut to many homes and NHK said about 37,000 households had lost water supplies. — AFP, Reuters