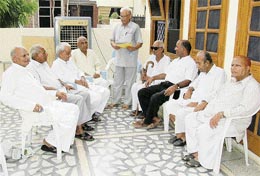 United for a cause in twilight years
Yamunanagar, July 26
Fortyfive members of the Senior Citizens Council, Jagadhri, have taken up the task to help society respect, love and care for its senior citizens. These members are no burden on their families, but have become source of pride for them because of the constructive social activities they are engaged in.
Members of the Senior Citizens Council, Jagadhri, hold a meeting in Yamunanagar. — A Tribune photograph
Restoring Hisar's Jehaj Kothi to its old glory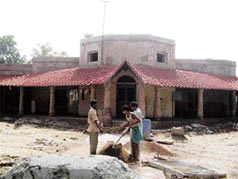 Hisar, July 26
One of the town's oldest buildings, the 200-year-old Jehaj Kothi, is getting a makeover. Built by an Irishman, George Thomson, a mercenary who virtually ruled the Hisar-Sirsa belt in his heyday, as his residence, it currently houses the office of the archives department.

The 200-year-old Jehaj Kothi at Hisar which is undergoing a makeover. — Tribune photo by P. L. Munday
Inside Babudom
Talk of cabinet reshuffle makes ministers extra civil
Chandigarh, July 26
Ever since the talk of a cabinet reshuffle, babus are breathing easy. Some of the senior officers, who were not on "the best of terms" with their ministers, are now finding their political bosses extra polite. Why? Many ministers are not sure whether they would retain their position in the cabinet or even retain their old portfolios after the cabinet reshuffle. Under the circumstances, they have lost their usual aggressiveness.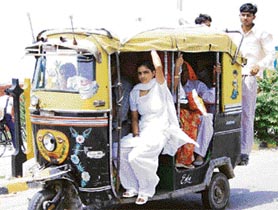 Autorickshaw men flout traffic rules in Rohtak
Rohtak, July 26
The pollution caused by autorickshaws in the town and nearby areas poses a serious threat to the health of the local residents. Apart from polluting the air, these three-wheelers also create noise pollution and traffic problems.
More the merrier: That's what a Rohtak autorickshaw driver seems to believe, unmindful of the violation of passenger safety norms. — Photo by Manoj Dhaka
Power: Gas substations planned
Gurgaon, July 26
To streamline the distribution of power and to cope with the problem of shortage of land in the state, the government has decided to promote setting up of gas insulator substation (GIS) units.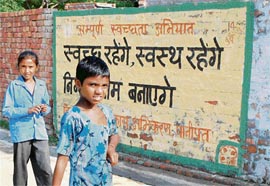 Hygiene is buzzword in Panipat village
Panipat, July 26
Bilaspur does not depict the conventional image of just another village of Haryana where cowdung litters the pathway leading to the village and fields being used as open toilets. Here, there are no filthy open drains, no breeding grounds for mosquitoes and nobody defecates in the open. Not any more.
Slogans on cleanliness painted on a wall in Bilaspur village, which has been awarded for its high standard of cleanliness. — Tribune photo by Ravi Kumar
Faridabad industry on revival path
Faridabad, July 26
The premier industrial hub, Faridabad, which had witnessed sluggishness in its growth during the past one and a half decades, seems to have regained its lost breath, thanks to some "life-saving" measures and the overall change in the growth pattern of the National Capital Region.
Sugar mill delays payment to farmers
Ambala, July 26
The Naraingarh sugar mill is once again in the thick of controversy following a delay in payment to sugarcane farmers.
Govt to explore farm exports
Chandigarh, July 26
Haryana farmers may soon find their produce being exported to several countries with the state drawing up big plans to make farming a viable proposition.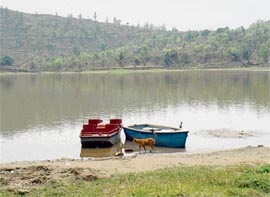 Morni fails to evolve as tourist spot
Panchkula, July 26
There are virtually no takers for the only hill station of Haryana. Even in the peak summer days when heat is killing in the plains, tourists have given Morni hills just about no attention.


Boats lie idle on the bank of Bara Taal in the Morni hills. — A Tribune photograph
MDU plans joint research centre with US varsity
Rohtak, July 26
A delegation from George Washington University of the US today visited Maharshi Dayanand University (MDU) here to explore the possibilities of setting up a joint research centre in the frontier areas of bio-informatics and systems biology. A joint meeting was held to work out the possibilities of joint studies and research.
IAS officers drawing 'illegal' pay
Chandigarh, July 26
Several IAS officers, posted as heads of various boards and corporations in the state, have been found flouting the rules for their own benefit.
Letters
Sanitation a mess in Gurgaon
Heaps of filthy and unsightly garbage seem to have become a permanent feature of our surroundings even in the so-called millennium city of Gurgaon.