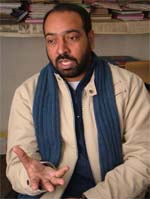 This theatre man is on a song
Amritsar, July 31
'Jattan da munda marassi ban gaya' said my family when I decided to act. But now they appreciate my decision", says Kewal Dhaliwal, well-known theatre artiste and director. He is also the president of Manch Rangmanch, an organisation engaged in nurturing budding artists. There is a secret that most of his students don't know. Dhaliwal is equally good at humming Punjabi songs. "When my students see me completely engrossed in putting together a play, the last thing that they expect is that I can settle down calmly in a chair to sing for them.
Amritsar, July 31
"My Mother Most Beautiful"- a non-government organisation dedicated to various issues concerning environment and the holy city - is a one-man initiative, which has turned into a "karvan". Initially, the organisation employed about 18 needed and poor youths who worked four to five hours in the morning on daily basis for planting trees and other environmental causes. All expenses of providing them salaries were borne by Dr Sushil Gupta, a medical practitioner in the Rambagh area, whose brainchild is the organisation.

An activist of NGO My Mother Most Beautiful removes banners and plastic ropes from an electricity pole in Amritsar. —A Tribune photograph
Tree plantation drive
Amritsar, July 31
Mission Aagaaz, an NGO, has initiated a tree plantation project in and around the holy city. For the purpose, it has tied up with the district administration. The campaign started with the plantation of trees near Bharawan Da Dhaba at Town Hall, Gurdwara Saragarhi Sahib and Gurdwara Santokhsar Sahib.
The divisibility factor
Which method will you opt for, when you have to check the divisibility of any number by 9? Will you go for the traditional division method or will you follow some other method? If you don't know the other easier method, let us learn how the divisibility of any number by 9 can be checked with the help of only the addition-operation.
Men should have their fair share at GCW
In the past three or four decades, there has been a major change in the education scenario of the state. Not only the course curriculum and infrastructure but also the student profile has witnessed a makeover. Girls have made deep inroads into the male bastion and occupied majority of seats in all major courses.