Youngest candidate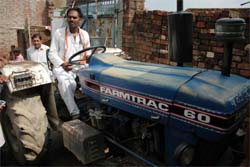 Kashmir Singh (R) is riding high on people's faith in his abilities.—Photo by Rajiv Sharma
Twenty one-year-old Bhawna, a second-year student of Bachelor of Business Administration (BBA), is the BJP's candidate from ward number 61. She seems too young to be a councillor but her confidence defies her confidence. "My being a novice should not be considered a disadvantage as long as I fulfil expectations of the voters. I believe that the face of the country cannot change unless youth of the country take charge and the process has to begin from the neighbourhood," she says.
"I hate people calling our ward backward. The sewerage system is faulty, roads are potholed, street lights do not work and there is no regular water supply to the area. I want to change all this in case people vote for me and turn this into a posh locality. It is a mammoth task but somebody has to make a start. It was my staunch patriotism that drove me to contest for the elections," she smiles.
"During my door-to-door campaigning, I established an instant connection with people and they briefed me about the lack of civic amenities in their colonies. I took notes of all these problems and would like to get into action mode immediately if I'm voted in," she promises.
People are able to see my seriousness going beyond their initial reactions about my age, says Bhawna. "I am serious about bringing about a change and do something for the area," she says. Bhawna's parents have been active party workers for the BJP Bhawana hopes to learn a lesson or two from them.
No formal education
Her voters know her, but only as the wife of local Congress leader Bakshir Singh. Amarjeet Kaur, who has had little formal education, says she understands the problems of the people and is thus the best choice for the councillor's post.
The first-time candidate is up and about going door-to-door to seek votes from women voters. After the campaigning is over, she religiously takes charge of her kitchen, baking "rotis" and cooking vegetables for her family. "People of the area turned out in large numbers at my road shows and they believe that having known them so closely, I would be able to do something for the area," she says.
She shrugs when asked about her inability to read and write. "My family is well educated and they would help me run the office if I become the councillor. There is nothing unusual about women of my age not going to getting degrees," she says. "My husband wanted to contest the elections from the area but after the ward was reserved, he discussed the issue with me and thought that we would be able to do something for the area even if someone else from the family wins the elections," says she. Amarjeet is Congress candidate from ward number 31.
From atop a trolley
Residents of ward number 60 have always seen the Congress candidate from the area, Kashmir Singh, mounted on a trolley. He is in the business of carrying mud and "malba" (construction material) on his trolley to various brick kilns in the Kot Khalsa and Prem Nagar areas. "I have been in this business for the past eight years. People of the area have faith in my abilities and they would surely vote for me," he claims. One thing that the 35-year-old candidate really missed during the week-long campaigning was riding his trolley. So whenever he got the opportunity, he set out on his trolley, done up with banners and flags carring the Congress election symbol.
"People of my ward have been voting for different candidates with varied profiles but they have now realised that what really matters is proper understanding of the real issues like regular supply of drinking water, proper sewerage system and effective garbage disposal system," he says.
Veteran independent
Master Kashmiri Lal, who has won the local bodies four times, has the distinction of being elected the Municipal commissioner of the Municipal Committee in 1972. Later, he joined the Congress after constitution of the corporation and won thrice from the area on the party ticket.
Since ward no 61, from where he had contested last time, has now been reserved for women, he had applied for Congress ticket from ward no 57. But when the party denied him candidature, he decided to fight as an independent.
"Most roads in the Gurbax Nagar and Haripur areas have not been metalled, the taps go dry for days on end and there are heaps of garbage in every nook and corner. "The area has been neglected for a long time and the corporation needs to make separate budget allocation for the area," he said.
"It was unfair for the party to drop sitting councillors like me from the list of candidates and give tickets to losing candidates instead. The party leadership would soon realise its folly when it loses the elections. There are many good winning candidates who were denied tickets by the party and this would lead to bad-blood in the party fold," says Master Kashmiri Lal.
Clash of titans
One of the most prominent BJP rebel candidate is Bimal Arora, who is taking on the party's district chief Bakshi Ram Arora in ward no 50. "Even though my ideology still conforms to that of the party, I decided to contest as independent, projecting my clean image," he says.
Arora has a vision for the Lawrence Road, the commercial hub of the city. "Traffic movement has to be regulated and there is need for more parking lots. I would also take the issue with the BBK DAV college management so that they open their back gate during peak hours.
There is also a need to provide better public utility services like public toilets in the area," he says.