Shailja Dogra, who has topped the Himachal B.Ed merit list.
Scarcity of water in Shimla
Shimla, August 24
With the residents still facing acute water scarcity in the town, the BJP and the CPM today decided to hold demonstrations in protest against the failure of the government in finding a permanent solution to the problem.
Schemes for SCs, STs
Hamirpur, August 24
The SC and ST Development Corporation has implemented several schemes to benefit the weaker sections.
Probe Ordered
HP circle phones operating in J&K
Dharamsala, August 24
Few telephone numbers of Himachal circle are being used in the terrorist-affected border areas of Kathua in Jammu and Kashmir. Stunned over the reports, security agencies in Himachal Pradesh have sprung into action and a high-level probe has been ordered. Chamba SP S.P.S. Verma was investigating the matter keeping in view, the sensitivity of the matter.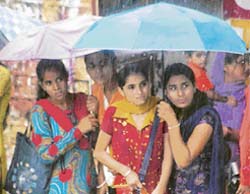 College students huddle under umbrellas near the post office bus stop at Dharamsala during a downpour on Friday. — Tribune photo
Youth dupes many of lakhs in Solan
Solan, August 24
A Delhi youth has not only duped various businessmen, jewellers and electronics dealers in the town but has also managed to flee despite his fraud being brought to light, while he was residing here.
Judicial panel summons Bali, five others
Dharamsala, August 24
The one-man committee headed by Justice O.P. Garg (retd.) today issued notices to former transport and tourism minister G.S. Bali, chief executive officer of the Star News, reporter of the Star News, manager/owner of the hotel/resort, petitioner who filed the case in the high court and the organizer of the party to appear before the committee on August 10 and 11.
Planned growth of towns must
Shimla, August 24
IPH minister Kaul Singh Thakur today stressed the need for better coordination between various agencies for planned and systematic development of towns.
CM visits Baru Sahib today
Nahan, August 24
Himachal Pradesh Chief Minister Vir Bhadra Singh, will inaugurate the first academic session of Akal College of Engineering andTechnology (ACET) at Baru Sahib, tomorrow.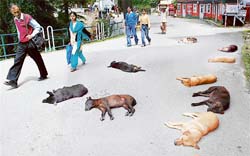 Stray dogs take a nap on Shimla's prestigious Mall Road. These dogs are a danger to pedestrians using this road, which is out of bounds for vehicles except those of the capital's top guns. — Tribune photo by S. Chandan
INTUC for action against corrupt HRTC staff
Nurpur, August 24
Taking a tough stand against corruption in the HRTC, ruling Congress' frontal organisation INTUC has decided to stage a dharna in front of the Vidhan Sabha during the coming monsoon session and hold a demonstration at the secretariat to protest against the failure of the government to act on the chargesheet submitted after framing charges of corruption in seven HRTC depots.
Scrub typhus cases in Mandi
Mandi, August 24
With over 17 cases testing positive for scrub typhus fever at the zonal hospital here, the heath authorities today sounded an alert in all hospitals to monitor the outbreak of an epidemic of typhus fever as over 130 patients have reported positive at different hospitals in the district in the past five days. Doctors attending on patients said fever cases had been pouring in from all over the district, including Kullu and Bilaspur as well.
Govt 'failed' to secure package
Hamirpur, August 24
State BJP spokesman Rajinder Rana has accused the state government of failing to protect the interests of the state by not securing a package from the Centre. He also took the government to task for not making the full use of the industrial package given by NDA government in 2002.
Licences delayed as system goes out of order
Kullu, August 24
The applicants for new driving licences or renewal of driving licences, were facing undue delay in getting their licences at the Motor Registering Authority-cum-subdivisional Magistrate office for the past one week.
Women block traffic
Hamirpur, August 24
Women from the Kalanjhari area blocked traffic at Kalanjhari, about 5 km from here, for about two hours on Friday to protest the arbitrary behaviour of private bus operators.
Man killed in road mishap
Sundernagar, August 24
One person was killed when a car and a truck collided near here late last night. The deceased was identified as Prabhkar John (44), who was working as a warden at Sub Jail, Mandi.
Two killed as car falls into gorge
Mandi, August 24
Two persons were killed and seven others injured in a road accident in the district last night.
Varsity planned at Namasidhar
Chamba, August 24
Former Governor of Mizoram Amolak Rattan Kohli has drawn up a flagship project for setting up a unique university at Namasidhar village in Mehla block of the district.