Curbing Crime
Out-of-box thinking helps cops
Amritsar, September 7
"Respected SSP saab, a group of drug peddlers wanted by the police are moving around freely in the Sultanwind area. They can be arrested from the following address…"

Complaint-cum-suggestion boxes put up at various places in the city are giving police vital information to arrest criminals. —Photo by Rajiv Sharma
Money Wise
'Cap subsidies to boost economy'
Amritsar, September 7
Soft approach on huge subsidy bills in Punjab has been causing considerable alarm among the economists. To give a new start to the economy, which has been sluggish for the past 25 years, the political leaders have to take some hard decisions. This was stated by finance minister Manpreet Badal, who was in the city to attend a CII meet.
Concern over demolitions near Jallianwala Bagh
Amritsar, September 7
The demolition of three shops adjoining the Jallianwala Bagh to widen the entry to the memorial has led to apprehensions in the minds of city residents that it might lead to the change in the original character of the historic place. This has highlighted the need for the district administration to spell out the purpose behind razing of the structures which were no less historic. The district administration had, on September 5, demolished three century-old shops and three houses in the are.

The shops adjoining Jallianwala Bagh are being razed so that a VIP parking can come up. — A Tribune photograph
DAV school honours staff
Amritsar, September 7
The city marked Teachers' Day by honouring them and staging cultural programmes. The DAV Public School honoured eight teachers among its staff members and one driver of the non-teaching staff on the school premises today in recognition of 20-year of service by chief guest R.S. Bawa, registrar of Guru Nanak Dev University.


Man To Man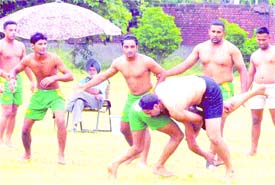 A match in progress during the GNDU inter-college kabaddi (Punjab style) tournament being held in Amritsar. — A Tribune photograph
Melting Antarctica
A threat to coastal areas
Amritsar, September 7
Global warming, depletion of the ozone layer would also have an effect on the Antarctic continent, besides affecting other parts of the world. If Antarctica's ice sheets melt, the world's oceans would rise by 60 to 65 metres (200 to 210 feet) submerging all the coastal areas of the world.
Trials for city bus service
today
Amritsar, September 7
To implement the state government's plan of city bus service, a trial of the bus service is going to be conducted tomorrow. The bus service, which is likely to be operational from November 1, is being considered as a relief to the traffic chaos in the city.
Workshop on designing question papers
Amritsar, September 7
Science teachers from 80 schools throughout the country, including Punjab, Haryana, Jharkhand, Uttaranchal, Himachal Pradesh, Uttar Pradesh, Bihar, Maharashtra, Delhi, Jammu and Kashmir, Chandigarh and Gujarat, participated in a three-day national workshop organised by DAV institutes on designing and development of science question papers at DAV Public School here today.
Teachers learn finer nuances of English
Amritsar, September 7
Publishing house, Ratna Sagar, and the British Council, Delhi, in collaboration with Shri Ram Ashram Public School held a seminar on "effective English teaching" in the school today. Ila Vij, associated with the British Council, as part of its teacher-support programmes, conducted the seminar, touching essential areas of teaching the English language
Subject expert Ila Vij being welcomed by the principal of Shri Ram Ashram Public School. — A Tribune photograph

Kiran Bedi
Kiran Bedi, Ajit Singh to be honoured at Baba Farid fest
Amritsar, September 7
It is a rare honor for the citizens of Amritsar that its two residents - Kiran Bedi, the first woman IPS officer, and Master Ajit Singh, a government teacher - would be honoured with Baba Farid and Bhagat Puran Singh awards, respectively, at the forthcoming annual Baba Farid Festival scheduled to be held on September 23 at Faridkot.
Raghbir Singh takes over as dean, academic affairs
Amritsar, September 7
A senior professor of the department of commerce and business management, Dr Raghbir Singh, has taken over as dean academic affairs of the Guru Nanak Dev University (GNDU). Dr Singh, who joined GNDU in 1985 has 32 years teaching and administrative experience.
Varicose Veins
New procedure promises fast relief
Amritsar, September 7
There's some good news for patients suffering from venous reflux disease. A new technique will give immediate relief to patients from leg heaviness and fatigue, severe pain and swollen limbs and other symptoms associated with the disease.

UK expert to dish out beauty advice
Amritsar, September 7
London-based beautician Yashika is all set to impart beauty and hair care tips to the Amritsarites during the two-day exhibition beginning tomorrow in the city. Expecting a houseful, the promoter of the fashion forecast show Tania Chatha, said the festival would bring on a single platform wider range of designers clothes, jewellery, home furnishing and other delicate women wear line.
Go green campaign: Sidhu gives 50 lakh to DC
Amritsar, September 7
As part of the ongoing go-green campaign, MP Navjot Singh Sidhu today handed over cheques worth Rs 50 lakh to deputy commissioner K.S. Pannu at a function organised at the Red Cross Bhavan. Nearly one lakh saplings have been planted in the city while around two lakh have been planted in the rural areas by the various NGOs who are part of the campaign. Around 35,000 saplings have also been planted by the Army authorities under the campaign.
Doc accused of denying first aid
Amritsar, September 7
In a complaint to the health and family welfare minister, Puneet Singh, a resident of Guru Nanak Avenue, Majitha Road, has alleged that a doctor in the surgical unit of Guru Nanak Dev Hospital refused to give him first aid even though he was bleeding profusely.
41 students make it to IBM
Amritsar, September 7
As many as 41 students have been selected in the joint campus recruitment programme held by IBM-Daksh, a Gurgaon-based multinational company, at the Khalsa College for Women.