Leap for public transport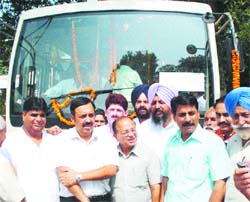 Mayor Shawet Malik flags off trial run of the city bus service which will start
from November 1. — A Tribune photograph
DGP Debacle
Inquiry sought into Virk's appointment
Amritsar, September 11
With the arrest of former DGP S.S. Virk by the Punjab Vigilance Bureau, Dal Khalsa has sought a comprehensive inquiry into the reasons for allowing an officer on deputation to continue for such a long time and into his unlawful policing methods.
Now, honk and get into trouble
Amritsar, September 11
Honking pressure horns in the city can prove costly now, as the district transport department has launched a special drive to check noise pollution.
A guiding light in sea of neglect
Amritsar, September 11
After retiring, this man had zeal to do something for society. Being an educationist, he decided to use the tool of education, to bring change in society and help downtrodden children. Ajit Singh Basra (80) has been imparting free and quality education to those children who are unable to pay school fees.


Ajit Singh teaches students of Citizens Forum Vidya Mandir School in Maqboolpura in Amritsar. — A Tribune photograph
Shower Power
Monsoon magic regales audience
Amritsar, September 11
A mesmerising "kathak" performance by Adnan Jahangir, an artiste from Pakistan, and "gatka" played by school students in perfect drill were the highlights of the musical evening, "Rainbow", organised by the Indian Academy of Fine Arts at Art Gallery here yesterday.
Herbal garden inaugurated
Amritsar, September 11
Army School, Amritsar Cantonment, observed September 8 as Herbal Garden Day by inaugurating a new garden developed at the school. The garden spread over an area of 1000 sq metres containing different varieties of herbal plants has been established by teachers and students.
Sidhu pulls up MC officials
Amritsar, September 11
BJP MP Navjot Singh Sidhu visited the elevated road project site along with newly elected mayor Shawet Malik and other councillors to review the work undertaken by Gammon India Limited. Annoyed over the indifferent attitude of municipal corporation officials and Gammon India Limited in failing to provide service roads on both sides of the elevated road, Sidhu came down heavily on those officials who, during his previous visit, had assured him of the completion of the service lane within 15 days.
Talent hunt: Students jostle for top slot
Amritsar, September 11
Nearly, 1050 students of BA, B.Com, B.Sc and MA (first year) took part in a talent hunt contest organised by the S.R. Government College for Women. The week-long event saw participants taking part in various contests, including quiz, declamation, poetical and shlok recitation.


The winners of a talent search contest pose for photograph along with their principal at S.R. Government College for Women
10-day NSS camp takes off at GNDU
Amritsar, September 11 A 10-day training course for NSS programme officers of Guru Nanak Dev University (GNDU) was inaugurated by programme coordinator Sukhpal Singh Dhillon at Guru Nanak Bhavan of the varsity on Monday.
NTSE scholarship for DAV students
Amritsar, September 11
Ravi Sharma, Dhruv Sharma and Ashima Kalia, all students of DAV Public School, have been declared winners of the national talent search examination conducted by the NCERT.
CBSE topper honoured
Amritsar, September 11
Paras Mahendroo, a student of Spring Dale Senior School, who had scored 98.6 per cent marks last year in the Class X senior secondary examination conducted by the CBSE, has been invited to participate in a programme run by the Council of Scientific and Industrial Research (CSIR). The CSIR programme on youth for leadership in science aims at attracting and motivating meritorious students to pursue a career in science. — OC
Census Consensus
DC for data collection revamp
Amritsar, September 11
"We are still following the parameters set by the Britishers for census data collection and there is a great need to adopt a new mechanism to collect this data in the present conditions".
Majhail new director of Chief Khalsa Diwan
Cationist Harjinder Singh Majhail has been appointed director of Chief Khalsa Diwan, a premier education body of Sikhs dedicated to the promotion of education.
Gunbir Singh joins Punjab panel of WWF-India
Amritsar, September 11
Gunbir Singh, chairman, CII, Amritsar zone, has been invited by the board of trustees of World Wide Fund for Nature-India (WWF-India) to join as honorary chairperson of the Punjab state committee of WWF-India.
Now, MC just a dial away for residents
Amritsar, September 11
The next time a streetlight in your lane stops working, just call up the municipal corporation, even at midnight. The "dial to complain" project is a brainchild of new mayor Shawet Malik.
Enabling blind to see the world
Amritsar, September 11
| | |
| --- | --- |
| With the aim to gift eyes to those who cannot see, Rotary Eye Bank is proving to be a boon. Presently situated in the Daljit Singh Eye Hospital, this eye bank has already registered 72 societies with it and encouraged many to donate eyes. As a result 8,344 persons have already pledged to donate their eyes to the bank with a cause that somebody could see the world with their eyes. Established in May 2002, the bank conducts corneal transplantation giving a hope to the visually challenged and lead a normal life. | V.P. Lakhanpal |
Amritsar hunk all set to make it big
Amritsar, September 11
| | |
| --- | --- |
| "Scores of aspirants fail to make it big in the world of modelling due to the absence of a proper platform in Amritsar. With no talent search competitions held here, getting a break is all about contacts," says 21-year-old Vishal Sharma, an upcoming model and actor from the city. After nearly four years of struggle, he has finally got his break with a religious movie, "Shri Guru Ram Das Ji", which is directed by Jaswinder Chahal of "Shaheed Baba Deep Singh" fame. | Vishal Sharma |