Scribes denied entry to Gobindgarh Fort for meeting JK delegates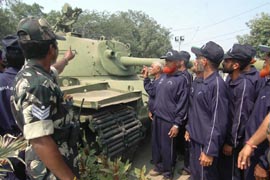 Amritsar, September 18
The Army authorities here did not allow the mediapersons to enter the historic Gobindgarh Fort today to meet the 28-member delegation of Gujjars and Bakkerwals of Gaghrot village in Naushehra Tehsil of Rajaori district in Jammu and Kashmir.
Armymen show tanks and other ammunition to members of Gujjars and Bakkerwal delegation. — A Tribune photograph
Masala Munch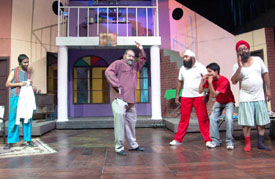 Artistes stage a play 'Mirch Masala'at Punjab Natshala in Amritsar. — Photo by Rajiv Sharma
'Yoga can help prevent cancer'
Amritsar, September 18
Dr Vinoda Kochupillai, former head of the Institute of Rotary Cancer Centre of the All-India Institute of Medical Sciences (AIIMS), espoused the critical role of yoga in strengthening the immune system which helps prevent cancer.
Bhagat Singh b'day celebrations begin today
Amritsar, September 18
The fortnight-long cultural extravaganza to commemorate the birth centenary celebrations of Shaheed Bhagat Singh, Raj Guru and Sukhdev would start tomorrow.

Physics on mind, young lecturer pens his 6th book
Amritsar, September 18
Amit Sareen at 31, a lecturer in the Amritsar College of Engineering and Technology (ACET), can well be described as an authority on physics. He has five books on the subject to his credit. And these books are not flukes as all of them have ISBN mark on them, signifying the recognition of his work internationally.
City resident elected member of Asian youth panel


Amritsar, September 18
Anantdeep Singh Dhillon, a city resident working as an agricultural officer with Axis Bank, has made the city proud as he has been selected to be part of the Asian youth committee of the world conference of religions for peace when he participated in a summit of Asian religious youth leaders in Asian youth assembly of world conference of religions for peace in Singapore recently.
Guess your friend's birthday!
In my previous article "It's Mathemagics", you learnt the trick of guessing the age and money of your friends. Now in continuation with the same series, I would help you to guess the birthday of your dear ones.
My City
Blast from the past
Amritsar, September 18
A rendezvous with art and Sikh historic nuances at their best is what the Maharaja Ranjit Singh Panorama in the holy city all about.
GNDU results out
Amritsar, September 18
Guru Nanak Dev University (GNDU) has declared the results of MA (public administration) Part-I and II, MA (Hindi) Part I and II, bachelor of physical education and postgraduate diploma in business management examinations held in April 2007.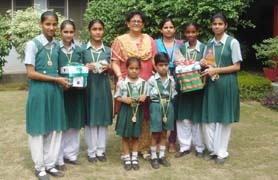 Winners of the district Yoga and culture championship held at the BBK DAV College for Women. — A Tribune photograph
4-year-old gets new lease of life
Amritsar, September 18
It was the happiest moment for Prakash Chand, a resident of a remote village of Himachal Paradesh, when his grandson Ankit walked out of the hospital by himself.
Taraksheel members pledge bodies for research
Amritsar, September 18
About 22 members of the Taraksheel Society, Punjab, would donate their bodies to Government Nanak Dev Hospital after their death at a special function organised by the society in association with its Amritsar unit to mark the birth centenary celebrations of martyr Bhagat Singh on September 25.