Gains for Bains: Educationist gets Canadian award
Jalandhar, September 18
Educationist and encyclopaedist Raghbir Singh Bains has been selected for the Philanthropy award in Canada. A resident of Urban Estate (Phase I), Bains will be conferred with the award at the Leisure Care Light House awards programme at Vancouver on September 28.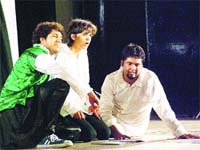 Comedy Cauldron
Jalandhar, September 18
For those who frowned upon Vishal Bhardwaj's "tampering" with Shakespeare's works, this one would come as a "shocker". The bard die-hards can take a backseat. This one is an out-an-out entertainer, a modern take on one of the greatest playwrights.
Maths is not boring
Who says mathematics is insipid and soporific? Definitely its not. Mathematics makes you marvel at the miracles of its own genre. So adroitly that you cannot help but fall in love with its wonderful results. Here is a beautiful illustration for you.
Young World
Propagating Hindi
Jalandhar, September 18
Sanskriti KMV School celebrated Hindi week. As part of the celebrations, the Hindi teachers conducted the morning assembly and gave all commands in Hindi. Jatinder Yadav of class VII talked about the significance of Hindi language. Besides, literary couplets, riddles, jokes and short stories were also narrated.
Homage To Hero
City gets ready to celebrate Bhagat Singh's birthday
Jalandhar, September 18
With just 10 days left for the birth centenary of Bhagat Singh, the youth brigade in the city is gearing up arranging for the celebrations. From holding processions to torch marches, conducting poetical sessions, speeches and musical programmes, the preparations are at full swing across the city for the mega event.