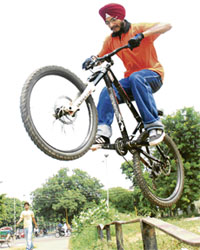 On the right track
A swanky car with one-touch control windscreen wipers, a motorbike with remote reservoir shock absorber and a bicycle with 26 gears and hydraulic brakes. Bi-cycle? Yes, you heard it right — a bike, bicycle or cycle (as you may call it) is the latest fancy machine behind the adrenalin rush. Stylish, packed with innumerable features and pricey (running in thousands), city cyclists on these wonder machines are all geared to re-invent the cycling culture here. We catch up with some of the riders on the accelerating wheels.


Jeevanjeet Singh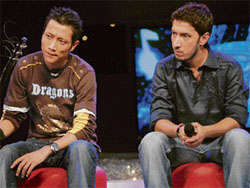 Enthusiasm unlimited
History is repeating itself, only with a greater force this time than the year 2006, when it was written with the victory of Debojit Saha in Zee's Sa Re Ga Ma Challenge. We are here talking about the feeling of solidarity of the Northeast people, when it comes to supporting their idols on small screen. Yes, this is about Sony's Indian Idol 3 and the battle between Shillong's Amit Paul and Darjeeling's Prashant Tamang.
Around the World in one day!
Re-doing your home every two months isn't a passion with you. Saving a share of your salary to set off on an antique hunt figures nowhere in your 'must-do' agendas. Nonetheless, (let's face it) you'll agree that high-end home décor' shopping has a charm of its own. Who'd mind, after all, reclining on the royal bed that once bowed under some maharaja's weight?
Fashionably yours
The city is riding high on fashion and has emerged as the place for international brands to set shop. On Thursday, United Colors of Benetton opened their largest mega store in the country. The four-storey store in Sector 17 is spread over an area of over 1,000 sq metres and promises to be a must stop for clothes and accessories.
Skin (Es)sense
Celebrating the essence of womanhood' is the focus of 10- year-old Nature's Essences that has 200 products in its kitty. The executive director of the company Saurabh Nanda was in town to motivate the distributors of their products.
SIDELANES
A libber at eight
The boys at Vivek Nursery & Preparatory, Sector 9, Chandigarh, were into a spirited game of cricket. Runs were made, stumps flew, tempers were short and the usual sledging greeted the losers. Dressing for the game was far more important than anything else. The right gear was paid for by fond parents, who saw a future star in their offspring. One particular lad, tall, skinny and self assured, stood out from the rest. Yuvraj Singh demanded his father Yograj Singh's attention after school hours, too. He did get it, for this parent knew that a star was soon going to shine in the world cricket galaxy.
In search of a new home
Nicole Kidman and hubby Keith Urban are packing up and moving out of their Nashville home. Kidman and her country musician hubby have put their four-bedroom, five-bath house on sale for the sum of $ 2.5 million. The 7,000-square-foot mansion, in a ritzy and gated section of Nashville, also comes with its very own gym, pool and spa.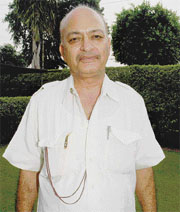 Learn via post
His passion to preserve the history of Indian postal service began with a jolt. He was in his ancestral village of Dadri in Haryana way back in 1965 when an earthquake destroyed a major portion of his house. While rummaging through the goods displaced he came across a postcard that belonged to the year 1899 with East-India Post Card written over it. It was addressed to Rao Khushi Singh, a member of V.P.S. Rao's family. This 12.2 by 7.5 cm post card which was sold for a quarter anna that time hooked his interest, leading him to search for many rare ones in the years to follow.
V.P.S. Rao
youth speak
Stress busters
Rising competition in education job and business family and relationship disputes lead to tension and depression in human mind and with each passing day more and more adults, teenagers and even children are caught in the stress trap. As this issue is becoming very pertinent these days, youngsters must prepare themselves to avoid stress and deal with it better. It can happen if they lead a healthy and focused life.
Art for the masses
| | |
| --- | --- |
| The art scene has definitely changed and it has changed for the better. Or how does one explain this phenomenon? Art Folio-9 exhibiting paintings whose price tag reads something like Rs 7 lakh (yes, we know money is not a yardstick to judge one's creativity and a painting's true value lies in the eyes of an art lover) and sharing the same platform are prints of original paintings, which are selling like hot cakes. | A painting by Arpana Caur |
Print Perfect
As a city, we have graduated from thinking of gold and diamonds as investment options to art . But then, as buyers have evolved, so have the artists — both in terms of quality and price — creating once again, an imbalance between one's longing and buying power. So, the immediate solution that the art circuit readily offers you is buying a print of the original painting.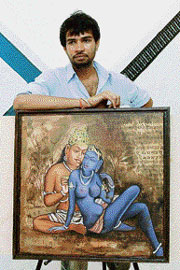 Body & Soul
Myths and perceptions, both ancient and contemporary, about the sacred and profane dimensions of love and passion are juxtaposed and defined in simple images in the ongoing exhibition of paintings — Body and Soul at Art Folio-9.

Rising Star
Bollywood Beckons
The old adage 'coming events cast their shadows before ..' is a depiction of the persona of Wamiqua Gabbi, a film star in the making. Barely in her teens, Wamiqua, a student of St. Xavier School has carved a niche for herself in Bollywood with her maiden but impressive role as Kareena' cousin in Shahid Kapoor, Kareena - starrer Jab We Met. The film will be released on October 19.
Vocal Treat
"Unlike the other academic subjects of the prescribed syllabus, music is not to be treated as a subject alone but a realm of art and a spiritual bliss. As such, imbibing its finer nuances by any student requires the blessed tutelage of the guru and the disciple's reverence for him, " maintains eminent classical vocalist Pandit Bhim Sen Sharma, the foremost disciple of Ustad Amir Khan Saheb.
New releases
Dhol beats to deceit & competition
Director: Priyadarshan Starring: Tusshar Kapoor, Kunal Khemu, Sharman Joshi, Tanushree Dutta, Payal Rohatgi, Rajpal Yadav
Oh Tina
Dilbagh Singh has come out with his first album, Oh Tina. The album, which is a production of well-known producer G.S. Maan, was launched under the banner of R.F Audio in the city on Thursday. What's special about this album is that five music directors and a similar number of lyricists have worked on its making.