Where to go?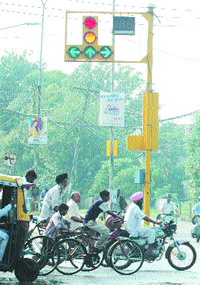 The Majitha Road traffic lights created a lot of confusion among commuters in Amritsar on Friday.— Photo by Rajiv Sharma
Boat Tragedy
Malta memorial to be inaugurated on Dec 25
Amritsar, September 21
Malta Boat Tragedy Mission chairman Balwant Singh Khera has welcomed the decision of the Italian government to establish a memorial in South of Sicily in memory of the victims of the boat tragedy.
Good days ahead for Gol Bagh
Amritsar, September 21
Located on the north-western side of Amritsar, Gol Bagh, which has become a picture of neglect, is all set for a face-lift with the local leaders promising to make available the much-needed funds for its development. While BJP MP Navjot Singh Sidhu will be contributing Rs 11 lakh, health and family welfare minister Laxmi Kanta Chawla has promised Rs 12 lakh and the remaining Rs 5 lakh will be made available by information and public relations minister Bikramjit Singh Majithia.
Martyr's B'day
Celebrations to pump up patriotism
Amritsar, September 21
The birth centenary celebrations of Shaheed Bhagat Singh and remembrance of Shaheed Sukhdev and Shaheed Rajguru over the coming week would be organised in a way that the young generation feels inspired and motivated by the patriotism of the great martyrs, stated principal secretary (sports) R.P.S. Pawar.
Come 2009, Sikh varsity will see light of day
To be set up at Fatehgarh Sahib
Amritsar, September 21
The Guru Granth Sahib World University (GGSWU) in Fatehgarh Sahib, to be established by the Shiromani Gurdwara Parbandhak Committee (SGPC), would start functioning from June-July, 2009, and its construction work is nearing completion, said Dr Jasbir Singh Ahluwalia, former Punjabi University vice-chancellor and member-secretary, GGSWU Trust.
Amritsar needs it: AVM
Amritsar, September 21
The Amritsar Vikas Manch (AVM) has urged Chief Minister Parkash Singh Badal and Shiromani Gurdwara Parbandhak Committee (SGPC) president Avtar Singh Makkar to set up Shri Guru Granth Sahib world Sikh university at Amritsar.
Cattle census to be over by Oct 14, says minister
Amritsar, September 21
The government would complete the cattle census by October 14. This was stated by minister for animal husbandry, fishery and dairy development Gulzar Singh Ranike, here today.
Social, moral values on decline: Ex-VC
Amritsar, September 21
In the contemporary world, knowledge has evolved as a tool for earning, and people are divorcing social and moral values, said Dr Jasbir Singh Ahluwalia, former vice-chancellor of Punjabi University, Patiala.
Book on Maharaja Ranjit Singh released
Amritsar, September 21
"I'm no historian. My book is a straight-from-heart effort to understand Maharaja Ranjit Singh as a harbinger of peace to Punjab."It is not about documentation of new facts or of rare pictures and paintings, but an attempt to understand the Maharaja's philosophy," said Manveen Sandhu whose book, "Maharaja Ranjit Singh - Personalitas Extraordinaire", was released recently.

An attempt to understand Maharaja's philosophy.

At 93, yoga keeps him going
Amritsar, September 21
He is 93-year-old but that is no deterrent for Gurbakhsh Singh Ahluwalia to practise yoga every morning. A retired police inspector, he had been riding a bicycle till last year and it was only after the doctors advised against it that he decided to take up some exercises for the legs instead.
Man Over Machine
'E-learning can't replace teachers'
Amritsar, September 21
Though e-learning has a number of advantages, still it cannot serve as an alternative to a teacher. The biggest disadvantage of e-learning is lack of face-to-face interaction. This was stated by Dr Subhash Deshmukh, librarian, Guru Gobind Singh Indraprastha University, New Delhi, while speaking on "e-learning: no dimensions in library and information science profession".
For people nearing 40, new tech promises spectacle-free eyes
Amritsar, September 21
Persons nearing the age of 40 and facing the prospect of vision deterioration due to age related factors could now get rid of their spectacles. At least this is what the new technique of "presbyopic lasik" claims.
Treating deafness: First 3 yrs of life crucial, say experts
Amritsar, September 21
"It's our vision to improve health and well-being of people of South East Asia through better hearing besides eliminating avoidable hearing impairment by the year 2030 through development of sustainable ear and hearing care systems under the programme 'Sound Hearing 2030'.
Study on the excess use of cell phones
Korpal shows his love for Sufi poetry
Amritsar, September 21
Even as he made a mark for himself in Punjabi journalism, keeping track of everyday happenings in Amritsar, Harkanwal Korpal couldn't get over his deep-rooted love for Sufi poetry.It was only when he started working on his doctorate, he got a chance to study the work of Baba Madho Shah, who is seen as the last exponent in Sufi poetry.


Rintu is Cong RO for Uttarakhand
Amritsar, September 21
District Youth Congress president Karamjit Singh Rintu has been nominated as pradesh returning officer (PRO) of Uttarakhand by the Congress Working Committee (CWC) member and in charge of frontal organisations Oscar Fernandes and president of the Indian Youth Congress (IYC) Ashok Tanwar under their nationwide membership campaign.


Karamjit Singh Rintu
Laxmi wins poster-making contest
Amritsar, September 21
An inter-school poster making competition on "drug addiction is an affliction" was held in Police DAV Public School here. Inspector-general of police and school chairman R.P. Meena was the chief guest.
NSS training course ends
Amritsar, September 21
A 10-day training course for NSS programme officers of Guru Nanak Dev University concluded on the university campus on September 19. More than 35 NSS officers from different universities, colleges and schools of Punjab participated in the course.
Mane Man
He'll make you look good
Amritsar, September 21
Aspiring air-hostesses have been groomed to look pretty and elegant by the deft touch of Ravi Deep who has carved a successful career as make-up man and hair stylist.
Lecturer booked
Tarn Taran, September 21
A Bir Baba Budha College lecturer has been booked on charges of attempt to murder. Police said a case has been registered against Balkar Singh on the complaint Hardayal Singh, secretary of college managing panel. Hardayal alleged that Balkar opened fire on him. — OC