Mark of the martyr in Pakistan
On Bhagat Singh's birth centenary, Chaman Lal recalls the sites and incidents associated with the freedom fighter in Pakistan
| | |
| --- | --- |
| During my recent visit to Pakistan, it was an added attraction to visit sites related to Bhagat Singh's life. Accompanied by Zubair, a well-known progressive storywriter of Punjabi, I first went to Bradlaugh Hall. The Hall is now in a dilapidated condition and some training school is being run from there. From the shape of the building, one could make out that it must have been a grand building once. | |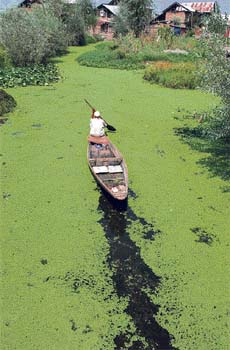 A Kashmiri youth rows a boat through weeds in the centre of Dal Lake in Srinagar. Raw sewage, land encroachment and years of neglect have been threatening the survival of the lake. — Photo by AFP
Making of a memorial
K. S. Bains
I was Deputy Commissioner, Ferozepore, in 1967. Two of my predecessors had tried to mobilise funds by donations to construct a memorial but nothing worthwhile emerged. I tried to do the same but realised that my efforts would not succeed. Lachhman Singh Gill, who belonged to Ferozepore, was the Chief Minister of Punjab at that time.
Many colours of
Sikh art
Pahari, Mughal and Rajasthani miniatures influenced Punjab Sikh paintings over the centuries,
writes Seema Chopra
SIKH paintings from Punjab have not been able to create a separate identity. Most paintings from the state can be categorised as Pahari, Rajasthani, Mughal, Kashmiri or even English. These paintings, with multiple themes, were based on illustrations from manuscripts, miniature paintings on paper, cloth or canvas and murals or wall paintings.
Land of the golden sand
Bhimli, near Vizag, has one of the safest beaches for swimming and water sports in the country, says Tanushree Podder
FOR those who rave about the beaches of Goa, here's a secret, go South and travel around the unexplored sandy stretches and you will be delighted to discover that they are as good, if not better. My chance discovery of a place known as Bhimli, short for Bheemunipatnam, came when I was visiting Visakhapatnam or Vizag, as it is popularly known.
Changing face of Chhapar Mela
The four-day Chhapar Mela, beginning on September 25, is losing its cultural appeal. It is now being used more as a platform for political parties to address gatherings, says Mahesh Sharma
WHAT was till some years ago a purely religious congregation to worship Gugga, an embodiment of Nag Devta, is now a mega socio-political event in Mandi Ahmedgarh. The administration has failed to preserve the original character and sanctity of the four-day mela, which now seems to have been hijacked by entrepreneurs and politicians.
India, a travel hotspot
Prasun Sonwalkar
Incredible India has been voted as the favourite country to travel to by readers of Conde Nast Traveller, a major travel magazine, during its 10th annual awards that honour the most popular destinations at home and around the world.
Story of reel children
From the 1950s Jagriti to the recent The Blue Umbrella, children have essayed significant roles in Hindi films, writes M.L. Dhawan
FOR movie buffs, stories from the world of children are fascinating. The most recent being Vishal Bharadwaj's The Blue Umbrella that won the National Award for the Best Children's Film category for 2005. The film is an adaptation of the novella of the same name by Ruskin Bond.
'Making films is my passion'
The evergreen hero Dev Anand has had a life-long romance with cinema. Mohan Sahay on the actor whose autobiography will be released by the Prime Minister on September 26
Romance does not necessarily means flirting with young girls or having a fling. There is romance in being amid hanging clouds and mists in a hill station. I am excited and find it romantic to sport a red scarf and loaf around in a shopping mall in New York or Paris", Dev Anand told this writer a few years ago in a one-to-one chat.
Deepa to make Punjabi film
Subhash K. Jha
Canada-based Indian filmmaker Deepa Mehta is set to return to India to shoot her first Punjabi film, Heaven On Earth, which chronicles the life of Amandeep, a victim of domestic violence in Toronto. But no comparisons with the Aishwarya Rai-starrer Provoked please. "No it's not Provoked, please!" Mehta told this reporter from Toronto.
SOCIETY
Men and make-up
Over 70 per cent of India's urban males visit a salon at least once a month for hairstyling, facials and skin-lifting treatment to make them look and feel good, writes Gagandeep Kaur
IF you scoff at the advertisement of 'Fair and Handsome', a fairness cream for men, and if the image of Bollywood superstar Shah Rukh Khan immersed in a bath tub filled with rose petals took you by surprise, then chances are that you haven't noticed the change in young urban men in the recent times.
It's all in the jeans
The perfect fit and the right style are the key to your jean wearing, writes Hector Choksi
Remember the days when for you the most valuable dress in your wardrobe was the jeans? For you their versatility mattered more than their price (which was often very high), as it was the garment you can wear around the house/workplace/ casual outings.
Woman with 65,000 recipes
A housewife in Bhopal is an ace culinary expert with knowledge of recipes of nearly 65,000 dishes. She is all set to have her unique talent enlisted in the Guinness Book of World Records. According to Krishnaveni Mudliar, she was drawn to cooking at a tender age which in due course became a sort of hobby for her, as she continued trying her hands experimenting with a variety of recipes.
PONY TALE
Almost every day, Alfie, a three-year-old Shetland pony, makes his way to the village pub in Woodmansterne, Surrey, for a glass of Guinness and cheese crisps. His owner, Sharon Sutherland, revealed that the little pony started accompanying her to the pub three months ago after he started squealing when he was left in his stable.