Ram Setu
Karunanidhi compared with 'Ravana'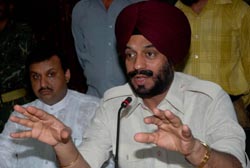 Jalandhar, September 27
Taking a tough stand on the "Ram Setu" issue, All-India Anti-Terrorist Front president Maninderjit Singh Bitta has appealed to the people to protest against the remarks made by Tamil Nadu Chief Minister M. Karunanidhi against Lord Rama on the "Ram Setu" issue.


I will be the first one to sacrifice my life if the government tries to demolish Ram Setu. — Bitta

City celebrates Martyr's centennial birth anniversary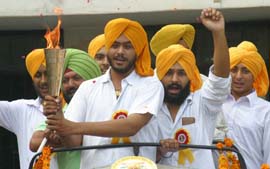 Jalandhar, September 27
The district administration celebrated the centennial birth anniversary of Shaheed-e-Azam Bhagat Singh, Rajguru and Sukhdev at Desh Bhagat Yaadgar Hall here today. Eminent freedom fighters Tilak Raj Suri, O.P. Sharma, Joginderpal Bhatia, K.L. Sachdeva, B.L. Uppal and Rajeshwar Singh paid floral tributes to the heroes.

Rang De Basanti: The group of 100 youths scheduled to participate in a rally to be held in Amritsar on Friday, carrying the flame. — A Tribune photograph
'Remember Rajguru, Sukhdev with Bhagat Singh'
As the world celebrates the 100th birth anniversary of Shaeed-e-Azam Bhagat Singh today, Jyotika Sood interacts with public on the issue of celebrating the birth anniversaries of the martyr's associates, Sukhdev and Rajguru, with the same fervour
Young World
World tourism day celebrated
Jalandhar, September 27
Students of BSc (airlines, tourism and hospitality management) from department of tourism of the Apeejay Institute of Management today celebrated World Tourism Day. An exhibition, "Feel the pulse of India", was organised.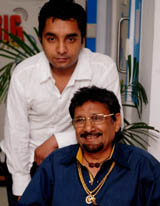 King of folk melody brings 'Jogi'
Jalandhar, September 27
Kuldeep Manak stands in a league of his own when it comes to Punjabi folk music. Having ruled over the hearts of Punjabis for over four decades with the most haunting melodies sung by him called "kaliyan", Manak has come out with his new album "Jogi" after a hiatus of seven years.
Kuldeep Manak with his son Yudhveer Manak. — A Tribune photograph
Two blind murders' mystery solved
Phagwara, September 27
The Police solved the mysteries of two blind murders committed several months back at nearby Bhabhiana village and arrested three killers, Parminder Singh alias, Phagga, Kuldip Singh, alias Gheetu, and Sukhjit Kaur of the same village.