At the altar of devp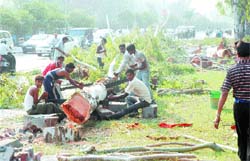 An eucalyptus tree being axed near Lyallpur Khalsa College. The work on the construction of a flyover here is in full swing. —Tribune photo by Pawan Sharma
Another NGO comes to life
Jalandhar, October 4
An NGO, Dastak, was formed in New Gobindgarh here today with Sandeep Chahal as its president. Chahal said in a statement that the main aim of Dastak would be to enlighten the youth and society and make them aware of the harmful effects of drugs and social evils.
Young World
Students air views on femicide, addiction
Jalandhar, October 4
Students of the Apeejay College of Fine Arts participated in a declamation contest organised by the Rotary Club. The topics of the contest were drug addiction and female foeticide. Reebhumika of BA (honours)-III got the second prize and Gagandeep of B.Sc (economics)-III got the appreciation prize.
Fake VAT refund to be probed
Phagwara, October 4
The Excise and Taxation Department would soon send special teams to Firozepore, Hoshiarpur, Amritsar and Tarn Taran to probe the alleged fake refunding of VAT being taken by several rice millers in these areas and to search any possible nexus with the culprit rice-miller of Kapurthala who was caught while taking fake VAT refunds. This was stated by assistant excise and taxation commissioner Rajinder Kaur while talking to selective journalists here today.
Student attacked by college mates
Phagwara, October 4
Sudarth Gupta, a student of Lovely Educational Institution, Chiherru, was allegedly attacked and seriously wounded by his more than 12 armed college mates near Bein Bridge last evening.
Exhib revives magic of late painter's strokes
Jalandhar, October 4
A six-day painting exhibition organised by the Prof C.L. Sharma Memorial Trust concluded at Virsa Vihar here on Thursday. Landscapes and portraits painted by veteran artist C.L. Sharma were displayed at the Dr Satya Paul Art Gallery.

A visitor takes a close look at the paintings by late C.L. Sharma at Dr Satya Paul Art Gallery in Jalandhar on Thursday.—Photo by S.S. Chopra

Vardaan docs remove 2.25 kg fibroid
Jalandhar, October 4
Doctors of Vardaan Medical Centre here successfully removed a fibroid weighing 2.25 kg from the uterus of a patient without an open surgery.In a press note issued here, they claimed that this was for the first time in north India that such a critical surgery had been performed, especially given the fact that many other hospitals, including some big names, refused to take the case of the patient who was a 31-year-old lecturer from Ludhiana.