Kartik, Zaheer snatch stunning win

Left-arm bowler takes career-best 6 for 27 as Australia bundled out for 193


Chasing the target, India were 64 for 6 before Zaheer and Kartik guide India home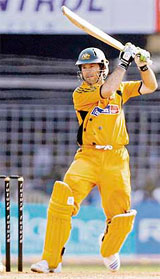 Australia's captain Ricky Ponting plays a shot against India during the seventh and final one-day international match in Mumbai. Ponting, who scored 57, emerged the highest scorer. — Reuters
Mumbai, October 17
India pulled off an incredible two-wicket victory relying on the tail-enders to salvage some pride in the seventh and final cricket one dayer against Australia here tonight.
In a low-scoring thriller, India first bundled out Australia for a paltry 193 in 41.3 overs, riding on Murali Kartik's career-best six for 27 and then staged a dramatic recovery to overhaul the target with four overs to spare and reduce the margin to 4-2 in the series.
The Indians owed their remarkable victory to left-arm spinner Kartik, who produced a mesmerising spell to derail the Australian batting and then was involved in a cheeky 52-run unbeaten partnership with Zaheer Khan (31 not out) to guide the team home.
The Australians, who have already wrapped up the series, had the Indians tottering at 64 for 6 and it seemed only a matter of time for the inevitable but the game took a dramatic turn with Robin Uthappa (47) leading the recovery.
The seventh wicket pair added 65 runs in 13.1 overs to take the score past the 100-run mark.
After Uthappa was out at 129 and Harbhajan Singh (19) on 143, Zaheer and Kartik kept the home team in the hunt and finally steered them home with an unbroken half-century stand for the ninth wicket.
The determined fight-back by the lower order batsmen came after the Australian bowlers had cut a swathe through the jittery top-order.
The cheap dismissals of Sourav Ganguly and Dinesh Kaarthik, who replaced the out-of-form Rahul Dravid in the eleven, for ducks within the first four overs by Mitchell Johnson set the tone for yet another batting collapse.
Both Ganguly and Kartik perished by edging Johnson behind the wicket to Adam Gilchrist who then pouched Yuvraj Singh (15) and captain Mahendra Singh Dhoni (5) off the other left-arm swing bowler Nathan Bracken to complete his 400th victim in ODIs.
In between, Sachin Tendulkar (21) perished dragging Brett Lee on to his stumps, leaving half the side back in the dressing room with only the 18th over in progress for 63.
Irfan Pathan followed a run later edging to the slip cordon off James Hopes before Uthappa and Harbhajan showed defiance to take the total past the 100-mark and keep the packed gathering in good cheer.
However, once it was broken by left-arm slow bowler Michael Clarke, who trapped Uthappa with an arm ball at 129, the end looked near and the match swung further the Aussies' way when Harbhajan was sent back by Johnson.
But Zaheer and Murali Kartik had other ideas as they guided India to a thrilling victory.
Kartik's career-best haul and unbeaten 21 runs earned him the Man of the Match award.
A dream spell of spin bowling by Murali Kartik, who took his first five-wicket haul in one-day internationals, taking 6 for 27 in his 10 overs restricted Australia to 193 all out in 41.3 overs — PTI
Scoreboard
Australia
Michael Clarke lbw b Zaheer 0
Gilchrist c Harbhajan b Pathan 19
Ponting c Dhoni b RP Singh 57
Brad Hodge c D Karthik b Kartik 16
Symonds c Tendulkar b Kartik 0
Brad Haddin lbw b Kartik 19
James Hopes b Kartik 22
Brad Hogg c Uthappa b Kartik 0
Brett Lee c RP Singh b Kartik 0
Mitchell Johnson not out 24
Bracken c Harbhajan b RP Singh 3
Extras (b-4, lb-3, w-26) 33
Total (all out, 41.3 overs) 193
Fall of wickets: 1-0, 2-60, 3-117, 4-117, 5-129, 6-162, 7-162, 8-162, 9-177
Bowling: Zaheer 9-1-22-1, RP Singh 8.3-1-59-2, Irfan 5-0-23-1, Ganguly 2-0-24-0, Harbhajan 7-0-31-0, Murali Kartik 10-3-27-6
India
Ganguly c Gilchrist b Johnson 0
Tendulkar b Lee 21
D Karthik c Gilchrist b Johnson 0
Yuvraj c Gilchrist b Bracken 15
Uthappa lbw b Clarke 47
Dhoni c Gilchrist b Bracken 5
IK Pathan c Clarke b Hopes 0
Harbhajan c Ponting b Johnson 19
Zaheer Khan not out 31
M Kartik not out 21
Extras (b-4, lb-12, w-20) 36
Total (8 wkts, 46 overs) 195
Fall of wickets: 1-3, 2-8, 3-38, 4-49, 5-63, 6-64, 7-129, 8-143
Bowling: Lee 10-1-37-1, Johnson 10-0-46-3, Bracken 10-3-30-2, Hopes 5-0-13-1, Hogg 8-0-40-0, M Clarke 3-0-13-1.
Player of the match: Murali Kartik
Man of the series: Andrew Symonds
Match result: India win by 2 wkts
Series result: Australia win 4-2
Next match: T20 October 20. — PTI