On Ashtmi dumped baby girl finds home
Amritsar, October 23
The day when the city was worshipping little girls in the name of the Goddess on "Ashtami" (October 20), someone abandoned a three-hour-old girl child in a field in the Verka area.
Cold response to Azadi Express
Amritsar, October 23
The Azadi Express, a mobile exhibition train which was flagged off by human resources development minister Arjun Singh on September 28 from New Delhi marking the birth anniversary of Shaheed Bhagat Singh, failed to attract the city residents as only the rail commuters visited the exhibition.
Engineering dreams for ruralites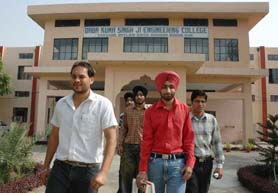 Amritsar, October 23
The vision which led late Baba Mangal Singh Ji to establish the Baba Kuma Singh Ji Engineering College in the remote village Hoshiar Nagar, for educating the youth of the border belt, has started bearing fruits as there is growing awareness among the local boys and girls about the technical courses being provided by the institute.
On a brighter path: Students of Baba Kuma Singh Ji Engineering College. — A Tribune photograph
Vision brings Irish traveller to Amritsar
Amritsar, October 23
Cost-effective treatment and professionalism at par with the developed countries has begun a new trend in the ophthalmology field as city doctors, considered among the best in the world, are attracting foreigners to seek eye treatment here.
Campus Buzz
Brit varsity keen on knowledge sharing pact with GNDU
Amritsar, October 23
Professor Robert Arnott, director of the centre for history of medicine of University of Birmingham, UK, visited the Guru Nanak Dev University here today and interacted with the vice-chancellor Dr Jai Rup Singh to identify the academic areas of mutual collaboration.
Talk on chemistry of nano-materials
Amritsar, October 23
Guru Nanak Dev University would host "JNC frontier lecturers and learning science" from October 24 to 26. The programme is being held in collaboration with Jawaharlal Nehru Centre for Advanced Scientific Research, Bangalore.
Rural Education
Seek help from panchayats, teachers told
Tarn Taran, October 23
Renowned educationist Dr DR Vij has appealed to the teachers working in the rural areas to seek active support of the panchayat concerned to redress the problems being faced by them to give better educational facilities to the students.