Academicians ring alarm bells over reforms in education
Muktsar, November 3
The academicians here have rung alarm bells over the role of panchayats in running schools, the high drop-out rate, a feeling of stagnation amongst the teachers, vacant posts and distribution of books to poor children at the fag end of the academic session.
Pakistan's artistes steal hearts
Moga, November 3
Artists from Lahore's Ajoka theatre deftly performed the captivating story of "Bullah", based on a turbulent chapter of Punjab's history, on the stage here on Friday. The Local Nagar Council Club organised the play with the assistance of the district administration.
No final decision on hiked power tariff: Badal
Ferozepur, November 3
Chief Minister Parkash Singh Badal today ruled out immediate implementation of the hiked tariff of electricity rates in urban areas which is already being opposed by its coalition partner in the state, the BJP.
BKU-Ekta up in arms against privatisation
'Government ignoring public interest'
Bathinda, November 3
The Bharatiya Kisan Union (BKU-Ekta) held a district level meeting at Gurudwara Haji Rattan Sahib, here this morning.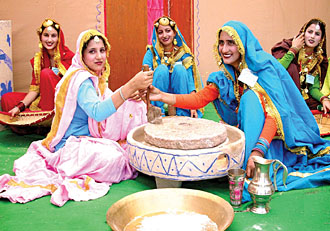 Village belles

: Students from different colleges of Muktsar zone displayed life in rural areas at the PU festival held at Bhag Singh Khalsa College for Women, near Abohar on Saturday. — A Tribune photograph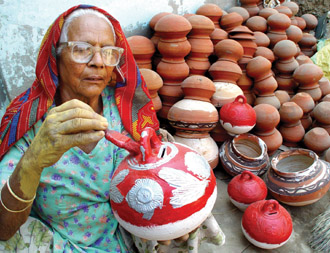 Finishing touch: A woman painting red a coin bank, popular among kids, ahead of Diwali, the festival of lights, in Bathinda on Saturday. — Tribune photo by Malkiat Singh
Stray animals come as menace in Mansa
Mansa, November 3
Stray animals in the city have become a great source of hindrance for traffic in the city. Cattle can be seen moving freely on the main roads thereby putting the lives of those using the road at risk.
DPR office crying for maintenance
Barnala, November 3
The District Public Relations Office (DPRO) here is in shambles. It has not been sanctioned money to install basic communication facilities or carry out renovation for 10 years. The municipal committee here wants the office vacated, as it wants to widen and renovate the only municipal park in the city. The DPRO office here is housed in a small building situated in a municipal park and has to pay rent to municipal committee.
'Resolve disputes through Lok Adalat'
Bathinda, November 3
A Lok Adalat was organised in the court complex of Bathinda on Saturday. It was presided over by additional district sessions judge G. K. Dheer. Seven courts were organised on Saturday. Additional sessions judge J. S. Kalar, civil judge Bhajan Ram, chief judicial magistrate Balwinder Singh, additional civil judge Nirmal Singh, civil judge Ranjeet Kaur, civil judge Surjeet Singh, advocates and social workers were present during the proceedings of the Lok Adalat.
4 women held for stealing ornaments
Sriganganagar, November 3
Four women belonging to the Bawria community were arrested for stealing gold ornaments here today. The four, who had migrated from Abohar and settled in Aboharia Colony, were arrested within six hours of the theft, DSP Sat Pal Midha said.
Residents stage dharna
Bathinda, November 3
Following a call by the Phatak Banao Sangharsh Committee, residents of Janata Nagar sat on a dharna on Saturday. Committee leader Makhan Singh Bahiman Deewana said the colony is surrounded by a railway track on two sides and the Sirhind canal on the third. It makes it difficult for big vehicles to enter the colony.
Lok Adalat held in Ferozepur
Ferozepur, November 3
A special Lok Adalat for the disposal of matrimonial disputes, cases registered under section 138 of the Negotiable Instruments Act, cases related to rent, land acquisition, bank loans, property disputes, revenue and consumer matters, telephone and electricity disputes was organised here today.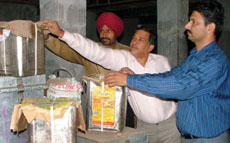 Health dept seizes 20 kg khoya
Bathinda, November 3
An inspection team, led by officials from the district health office, seized 20 kg of khoya from a cold storage at Behman Diwana village, near here this morning.
Officials raiding the cold storage in Bathinda. — A Tribune photograph
PSEB engg killed in road mishap
Bathinda, November 3
One junior engineer of the Punjab State Electricity Board, Mohinder Singh, from Rajkot, was killed in a collision between two motorcycles near the cantonment area here, today.
Demand for court by lawyers
Fazilka, November 3
Advocates of Fazilka, led by Anil Jain, president of Bar Association, today pleaded for the setting up of the court of additional district and sessions judge before Rajesh Bindal, Judge, Punjab and Haryana High Court, who was here to preside over the Lok Adalat, in the court of sub-divisional judicial magistrate S.S. Mann.