'Chaudhry's phone call led to emergency'
Islamabad, November 4
A reported telephone call by Justice Iftikhar Muhammad Chaudhry about a decision on the petition of Presidential election prompted the authorities to impose state of emergency in the country.

Justice Iftikhar Muhammad Chaudhry
This is martial law: Bhutto
Karachi, November 4
Calling the "undemocratic" measure imposed on Pakistan as not Emergency but Martial law, former premier Benazir Bhutto today attacked Pervez Musharraf saying he was worried over the outcome of the Supreme Court judgement on the challenge to his re-election as President in uniform. Benazir Bhutto
Curbs on media to continue
Talks on with pvt channels to work out 'code of conduct'
P rivate TV channels in the country will remain off air till the conclusion of negotiations with owners. Negotiations are on to reach an agreement on a "code of conduct" to be followed by TV channels in view of the imposition of emergency in the country, information minister Mohammad Ali Durrani said here today.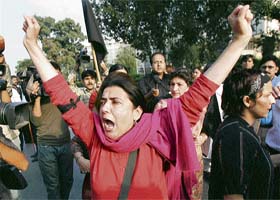 Pakistani civil rights activists raise anti-Musharraf slogans during a protest in Islamabad on Sunday. — AFP
Reactions
Restore rule of law, C'wealth tells Pak
London, November 4
Describing imposition of emergency in Pakistan as a "serious setback to democracy", the Commonwealth has asked the Musharraf regime to restore the rule of law and hold the elections as scheduled in the country.
'A tool to delay poll'
New Delhi, November 4
A Delhi-based NGO, Act Now for Harmony and Democracy, today condemned the imposition of emergency in Pakistan. It is clear that a long absence of democratic political process in Pakistan has made it easy for the external elements to thrive, the NGO said in a release here.
Sharif urges Musharraf to quit
London, November 4
Former Pakistani Prime Minister Nawaz Sharif called on President Pervez Musharraf today to step down following his imposition of emergency rule. Asked what Musharraf should do now, Sharif told Sky News, "Step down, because he is part of the problem.
Musharraf's move may affect US aid to Pak
New York, November 4
President Pervez Musharraf's move to impose emergency in Pakistan, ignoring warning by a top US military commander, has put Washington's aid to Islamabad amounting to millions of dollars at risk.
USA to review aid to Pak
Jerusalem, November 4
US Secretary of State Condoleezza Rice said today the USA would review billions of dollars in financial aid to ally Pakistan after President Pervez Musharraf declared emergency rule.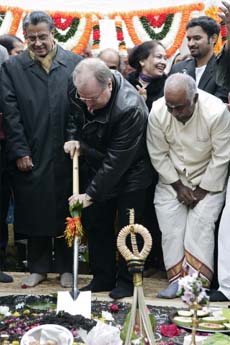 Heinz Buschkowsky (centre), mayor of Berlin's Neukoelin district, breaks the ground for a planned Sri Ganesha Temple on Sunday in Berlin. The temple will include a 17-metre tall tower and will become an inter-cultural meeting place and a prayer site for the Hindus living here. — AFP
US, UK call for return to democracy
Washington, November 4
The US and Britain led the global community in voicing deep concern over imposition of emergency in Pakistan, describing it as a "sharp setback" to democracy and seeking the country's swift return to rule of law.
Rice calls for early elections
Jerusalem, November 4
US Secretary of state Condoleezza Rice appealed today for restraint on all sides in Pakistan and said President Pervez Musharraf must affirm that elections take place.
SAFMA condemns clampdown on media
New Delhi, November 4
Journalists working under tremendous pressure due to imposition of emergency does not augur well for the return of democracy, South Asia Free Media Association said here today.
11 held for plot to kill Fiji PM
Suva (Fiji), November 4
The Fijian police arrested 11 persons over an alleged plot by dissident army members to assassinate the country's military leader, Commodore Frank Bainimarama, and some members of his Cabinet, a senior official said today.
73 legal ways to enter UK
London, November 4
Immigrants can enter Britain in 73 ways, which will allow them to live and work in the country legally, according to a document published by the Home Office. Some schemes, such as those for music students and riding school pupils, allow migrants to combine studying with part-time work, 'The Daily Telegraph' reported here today.
UN envoy meets junta go-between
Yangon, November 4
UN envoy Ibrahim Gambari met the Myanmar junta's go-between with detained democracy icon Aung San Suu Kyi today, during a mission for reform complicated by the generals' move to kick out the UN's top resident diplomat.


30-yr-old murder case
Nepal SC puts off verdict against Sobhraj again
Kathmandu, November 4
Nepal's Supreme Court today put off announcement of the final verdict on a 30-year-old murder case involving Charles Sobhraj, dealing a fresh blow to the hopes of the 63-year-old international criminal, who is lodged in a prison here. Charles Sobhraj
Liberation struggle will continue: LTTE chief
Colombo, November 4
Vowing to continue the "liberation struggle" despite the death of LTTE's political head, S.P Thamilselvan in an aerial raid, Tamil Tigers' elusive supremo, V. Prabhakaran said Sri Lankan security forces "cruelly killed the peace dove" by targeting the outfit's senior leader.
Rogue Indian surgeon to fight extradition
Sydney, November 4
Rogue Indian surgeon Jayant Patel would fight an extradition to Australia, sparking a legal battle in the US court system, which could last more than four years. Officials believe Dr Patel, who lives in Oregon, US, could be arrested before Christmas once final paperwork for the extradition of the fugitive medic was completed.
Militants free 211 Pakistani troops
Wana, November 4
Taliban militants freed 211 Pakistani troops today after holding them captive since late August in a tribal region near the Afghan border, officials and the military said. The Pakistani militants handed over the soldiers to tribal elders in South Waziristan, a mountainous Taliban and al Qaida stronghold where they were captured on August 30 after their supply convoy was trapped by a landslide.
Chad frees seven detained Europeans
N'djamena (Chad), November 4
Chad freed seven Europeans today after more than a week in detention, their lawyer said, as French President Nicolas Sarkozy arrived to discuss the case of 10 other Europeans accused of involvement in an alleged plan to kidnap 103 African children.
Pilot who bombed Hiroshima dies
Columbus, November 4
Paul Tibbets (92), the pilot and commander of the B-29 that dropped the atomic bomb on Hiroshima, Japan, died today, a spokesman said. Tibbets died at his Columbus home after a two month decline in his health, stemming from a variety of health problems, said Gerry Newhouse, a longtime friend.
Japanese opposition leader quits
Tokyo, November 4
The head of Japan's main opposition party announced today he will step down as party president after his colleagues rejected a proposed coalition with the troubled ruling bloc.
"Taj Mahal" sold in US; gets just one-tenth of the price
New York, November 4
Thousands of miles away from India's very own Taj Mahal, which recently made to the world's seven wonders list, a namesake is being sold in a small Pennsylvania city, that too at about one-tenth of the price.
4 LTTE rebels, 1 soldier killed in Sri Lanka
Colombo, November 4
Four LTTE militants and one soldier were killed in clashes in Sri Lanka's embattled north even as the government's air force continued its aerial attacks on rebel positions in the region.