Demining of Chhamb fields begins
Tejinder Singh Sodhi
Tribune News Service
Gigrial (LoC), November 8
As the guns from across the border have fallen silent, the Indian army has taken up the uphill task to clear the minefield that was set in the Chhamb sector of the Line of Control.
The Army is engaged in demining the fields in the region to facilitate the residents to grow crops on the land.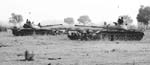 Army tanks deployed to de-mine fields at Gigrial village in the Chhamb sector along the LoC on Wednesday. — A Tribune photo by Anand Sharma
During the Kargil conflict and the operation Parakram, entire area along with the LoC was mined with anti-tank and anti-personnel mines, but now as the guns from both sides have fallen silent, the Army is de-mining the area. As much as 28,000 hectares was mined which directly affected 6072 families of 21 villages in the area.
"We have always been on the receiving end, we had to vacate our land in 1965 and 1971 and now since 1999 we are not being allowed to enter our fields to start cultivation," said Charan Das, former sarpanch of Gigrial village.
Residents of the area, who mostly depend on agriculture for their livelihood, say, "This time we told the government that if it did not de-mine our land, it should allow us to cultivate the land as we are ready to die in a mine blast rather than by starving," said Pathan Singh, sarpanch of Pangali village.
"This sector is very sensitive and very strategically located as it is the only area along the entire Line of Control in the region which is easily accessible by both armies. Pakistan launched its attacks on India in 1965 and 1971 from here," said an army officer.
But now, the farmers in the region have been shown a ray of hope. The Army has deployed three tanks to de-mine the area.
"It will take us three or four months to de-mine the area," said an army officer.
Speaking to The Tribune, speaker of the legislative assembly Tara Chand who represents the Akhnoor constituency said, "It was a long-pending demand of the residents of the area who mainly depend on agriculture that their land be vacated as they were starving since the central government stopped the relief which was given to them in lieu of their land."