first day first show
Farcical Extravaganza
Rajiv Kaplish
Moolah rage has turned celluloid into a battleground. It's a fight of bloated eccentricities. Nearly Rs 150 crore is riding on two magnum opuses. There are fireworks outside and stampedes inside cineplexes and multiplexes. Brand Saawariya vs Brand Om Shanti Om.
While the maker of one thinks he is a reincarnation of late Raj Kapoor, the creators of the other owe their allegiance to the Subhash Ghai School of Film making. One is paying tributes to the musicals of the 70s, the other is singing paeans to the melancholic cinema of yore. If Saawariya had a star-studded premiere in Mumbai, Om... was premiered in an exclusive London theatre. Pre-release campaigns were outrageous to the point of being pathetic. Desperate for publicity for their respective films, Shah Rukh Khan, Farah Khan, Deepika Padukone, Sonam Kapoor, Ranbir Kapoor and Sanjay Leela Bhansali judged contests, attended talk shows, sang and danced on various TV channels and sashayed down the ramp. Death of meaningful cinema. Birth of farcical extravaganzas.
A Big Yawn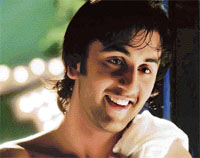 Saawariya
Watchable
Let's talk of the Bhansali variety first. For its ballyhooed brilliance, Saawariya does not deliver, either at the emotional level or the spectacle level. In fact, spectacle freaks who were looking for a stunning visual treat may be disappointed at the lethargic pace of the film which tells the story of two star-crossed lovers, Raj (Ranbir Kapoor) and Sakina (Sonam Kapoor) who are victims of their circumstances — Raj's unrequited love for Sakina who considers him no more than a friend; her pinings for Iman (Salman Khan) who had fallen in love with her and had gone away with a promise to come back to her.
An extraordinarily ordinary romantic tale, it gets our responses only by the performance of debutant Ranbir Kapoor. Take away Ranbir and the flick will be a Tsunami of a disaster. His child-like innocence, though exaggerated at times, touches an emotional chord in you. But, he is let down by the story which hardly offers him any scope to demonstrate his acting abilities. Newcomer Sonam Kapoor, daughter of actor Anil Kapoor, who looks like Juhi Chawla in frames, is a big disappointment. A victim of indifferent acting, her melancholy and pain unfolds with absolute unease in front of the lens. The speed at which Rani Mukherji is playing a prostitute in film after film does not augur well for an otherwise accomplished actor. She is wasted in a role, which should not have been there in the first place. Salman Khan's appearance is restricted to five minutes and his vocabulary is limited to one word Aslam-Alaikum. Monty Sharma's music is appealing and songs like Saawariya and Masha Allah have the potential of becoming huge hits.
Bhansali is not a poet behind the camera but a magician whose magic fails to work. Ranbir Kapoor may not have been able to drop his towel, courtesy the Censor Board, but we throw in the towel and make it to the exit.
Showing at: Fun Republic, Batra
When disco causes dard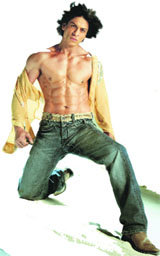 Om Shanti Om
Watchable
Reincarnation is at the core of Om Shanti Om. If The Reincarnation of Peter Proud and Subhash Ghai's Karz had only one rebirth, Om ... has two — those of Shah Rukh Khan and Deepika Padukone. SRK and Farah Khan rewind to the seventies, take an idea from here, take another from there, garnish it with opulent sets and a monster is born. And reborn.
In the first half, SRK is Om Prakash Makhija, a junior artiste under the spell of a superstar, Shanti (Deepika). Both perish in a studio fire ignited by baddy Mukesh Mehra (Arjun Rampal) and are born again as Om Kapoor and Sandy to take revenge on the villain. So much type. So little to write about. What can you write about a much-touted nine-minute song sequence featuring 31 stars, which is stolen from John Jani Janardan of Manmohan Desai's Naseeb? But where was the need to gather so many actors and waste their and the audiences' time? Or, SRK's rippling torso in Dard-e-Disco, which, in fact, gives us dard. Garish sets are set on fire twice to show how reckless you can be if you have a lot of money to throw.
Shah Rukh abysmally fails to lift the proceedings from the rut of mediocrity. Prakash Padukone's daughter, Deepika, who makes her debut, though easy on the eye, fails to impress in her role which is limited to the first half and half-an-hour in the second half.
Arjun Rampal is the man to watch. After a long time, we have a villain who is not only good looking but also a consummate actor. Kirron Kher and Shreyas Talpade are victims of overacting. It is a masala potboiler that will appeal only to a particular section of the audience.
Showing at: Fun Republic, Piccadily, Kiran