Long haul for residents as no train halts at these railway stations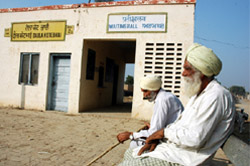 Bathinda, November 28
A railway station where no train stops! Sounds strange but it is a fact that Karam Garh, Sardar Garh and Daula Kotebhai are villages on the Bathinda-Malout rail route, which is facing discriminatory behaviour from the railway authorities.
A Long Wait: Residents of village Daula Kotebhai sitting outside the railway station in the hope that some day a train will stop there. — Tribune photo by Kulbir Beera
Rly union polls over, results on Dec 3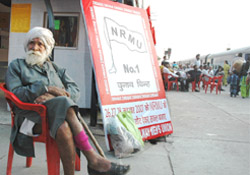 Bathinda, November 28
The three-day polling to elect the railway employees union that began on November 26, came to an end as the last phase of polling concluded peacefully, today. Polling for the northern railway zone, which comprises Ambala, Muradabad, Lucknow Ferozepur and Delhi circles, was held in Bathinda.


The placard of a railway union contesting the election at Bathinda railway station. — A Tribune photograph

JKS decries corporate farming
Barnala, November 28
Terming the acquisition of farmers' land for industrial use and entrance of the corporate world in agriculture as a threat to the farming sector, the three-day state level session of the Jamhoori Kisan Sabha (JKS) concluded at the Aggarwal Dharmshala here today.
PAU launches awareness campaign to tackle mealy bug
Abohar, November 28
P.S. Aulakh, director, regional station of Punjab Agricultural University and P. K. Arora, entomologist, inaugurated an awareness campaign for the management of mealy bug here today.
Click mouse to solve sums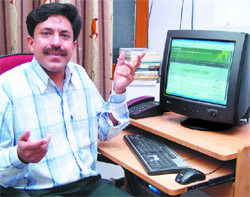 Bathinda, November 28
It was a chance meeting with a teacher from the north-east that prompted Dev Anup, a maths teacher at the local St. Joseph's school in Bathinda, to launch a website for the convenience of his colleagues and students. The cyber effort has been more than worthwhile. Just 21 months after he launched the site, www. cbsemath.com has achieved the distinction of being the number one CBSE maths portal on the web with over 5,000 hits a day.

Dev Anup, the brain behind cbsemath.com — Tribune photo by Malkiat Singh

Despite ban, schools using word 'Harijan'
Mansa, November 28
Although the Central and state governments have banned the use of word 'Harijan' in the government's official papers and functions, some government primary schools in Mansa district continue to use the offending word.
Demand for potable water
Abohar, November 28
In a release here, the Samaj Sudhar Sabha, an NGO, said a memorandum had been submitted to district authorities on August 8 expressing concern over the inadequate supply of potable water to the residents of 13 municipal wards located on the other side of the railway station.
Woman dead
Abohar, November 28
An unidentified woman who had been admitted to the Nehru Memorial Civil Hospital here on Tuesday succumbed to her injuries, the police confirmed today.
2 sent to jail in murder case
Abohar, November 28
The court of upper district and sessions judge Vishnu Dutt Sharma at Nohar in Sriganganagar sentenced Sultan Sharma (30) to life imprisonment while his accomplice Mohan Lal Sharma was awarded seven years of imprisonment in a murder case on Tuesday, sources said today.
Jail inmate returns from parole with drugs
Bathinda, November 28
Officials at the Central Jail in Bathinda recovered a huge stock of tablets and capsules, allegedly used as intoxicant, from the possession of a convict who had returned from parole, on Tuesday.
Sex selection kits: CJ assures IMA of action
Bathinda, November 28
The Chief Justice of Punjab and Haryana High Court, Vijender Jain, has reportedly assured the Indian Medical Association (IMA) that the court would take a suo motu notice of the report published in a section of the media.
Miracles scientifically analysed at workshop
Ferozepur, November 28
The Punjab State Council for Science and Technology (PSCST) organised a four-day zonal level workshop on scientific analysis of miracles at the MLM Senior Secondary School here today.
Pak play leaves audience spellbound
Ferozepur, November 28
The Pakistani artistes cast a magical spell on the audience who came to witness the play, "Jihne Lahore Nahin Dekhiya" staged here by the theatre group, Tehrik-e-Niswan, which was choreographed and directed by Sheema Kirmani, on the premises of the Dev Samaj College for Women here yesterday evening.
Mann sets the stage afire in Muktsar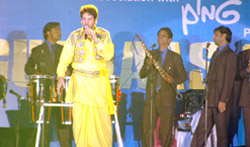 Muktsar, November 28
The crowd shouted for 'Challa', and the mega star leaped to his 'dafli' while his musicians discarded the pop instruments to pick up the traditional 'dholki' and 'chimta'. And Gurdas Mann came to his original form with the melody he has been singing for three generations now.

Gurdas Mann performing in Muktsar on Wednesday. — A Tribune photograph