'Skating scaring away birds at Company Bagh'
Amritsar, December 4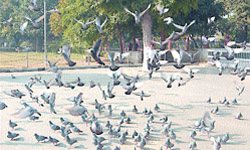 The city offers an array of hangouts like Company Bagh, Gol Bagh and other areas where people gather in the mornings and evenings to enjoy themselves by feeding hundreds of birds, including pigeons. However, a skating camp, being organised by a private organisation, has alledgedly spoiled the joy for scores of bird lovers who have to return disappointed as instead of a flock of pigeons all that meets their eyes are a bunch of kids on skateboards.
Bird lovers of the city are unhappy with a private body organising the skating camp. — A Tribune photograph

United Against AIDS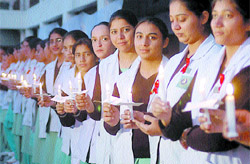 Nursing students of the city take out a candlelight march to spread AIDS awareness. — A Tribune photograph
Campus Buzz
Physics refresher course starts at GNDU
Amritsar, December 4
A three-week refresher course in physics, organised by the Academic Staff College in collaboration with the department of physics of Guru Nanak Dev University, commenced here today.
Varsity Poll
Dr Davinder is GNDU teachers' body chief
Amritsar, December 4
Dr Davinder Singh of psychology department has been declared the president of the Guru Nanak Dev University Teachers Association, (GNDUTA), the election of which was held here on Monday.
US trip for Holy Heart students
Amritsar, December 4
The Holy Heart School has planned an educational trip to New York and Florida in the United States where the students would get a chance to visit UN session, NASA and Disney Land etc. The students would have an experience of lifetime and they will gain knowledge by interacting with various children of the schools in the US. Principal Vikram Seth said the students would also get a chance to visit Midtown Manhattan, Greenwich Village, Metropolitan Museum, Empire State Building besides enjoying thrills of space mountain and admire the magnificent Cinderella's Castle, the Universal Studios, Disney's Ocean Discoveries, Millennium cultures, Animal Kingdom, NASA's spacecraft and launch site etc.
A Million-dollar Smile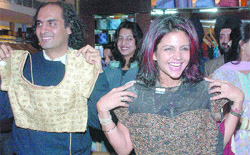 Mandira Bedi at the launch of a new range of winter apparels in Amritsar. — A Tribune photograph
Hockey legend Dhyan Chand remembered
Amritsar, December 4
Rich tributes were paid to Indian hockey wizard Dhyan Chand on his death anniversary at DAV Public School here. Students read out the illustrious profile and recited poems on the greatest hockey player of the time, highlighting latter's momentous achievements in 1928, 1932 and 1936 Olympics. Professor Paramjit Singh Randhawa of DAV College said though a film like 'Chak De' was a great effort to promote the cause of hockey in India, but this was not sufficient. "The need of the hour is to motivate youth towards the great sport," he added.
Toiling hard to be Mr Sikh International
Amritsar, December 4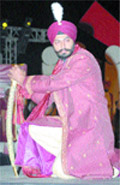 Twentynine finalists from all over the country and abroad are preparing for the mega-finals of the "Mr Sikh International" contest to be held on December 15 at Khalsa College here. The candidates are toiling with their training sessions starting early in the morning with daily rituals as per Sikh traditions. The event is being organised by the Akal Purakh Ki Fauj (APKF) in collaboration with Frankfinn Air Hostess Academy.




A Sikh youth poses during a pre-final round of Mr Sikh International. — A Tribune photograph
NGO to help victims of exploitation
Amritsar, December 4
With the society still finding it difficult to fight evils like female foeticide, dowry, corruption and drug abuse, a new NGO 'Social Service Volunteer Force'(SSVF) was launched in the city to help victims of exploitation.
OCM's new woollen collection hits shelves
Amritsar, December 4
OCM India Limited, the company manufacturing woollen fabrics, launched its 'Summer 08 collection' at its sales conference held here today. Aimed at the tastes of young generation the collection has combined linen, wool, polyester as well as viscose.
Seminar on Punjabi literature
Amritsar, December 4
Classical literature highlights the simplicities of life in an eloquent way. This was said by Dr Joginder Singh Rahi, former head of the department of School of Punjabi studies, GNDU, during the two-day seminar on "Classical Punjabi literature: determine and reevaluate".