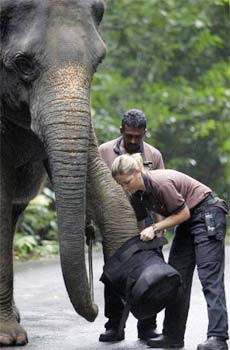 Dr Sonja Luz, a veterinarian, puts a bootie onto the left foot of Tun on Wednesday in Singapore. Two elephants in captivity at the Singapore Zoo, Tun and Jamilah, received waterproof custom-made gore-tex booties to alleviate ongoing foot problems and aid the healing of the lesions on soles of their feet. — AP/PTI
Appear or face action, SC to lawyers
Facing continuous boycott of its proceedings by lawyers, the Supreme Court has asked all advocates-on-record to appear on behalf of legal attorneys or face contempt action.
Chaudhry denies Mush's allegations
Deposed Chief Justice Iftikhar Muhammad Chaudhry has denied President Pervez Musharraf's allegation that he was trying to remove the latter illegally.
Triple car bombing kills 40 in Iraq
Basra, December 12
Forty people were killed and more than 125 wounded when three car bombs exploded in quick succession in a southern Iraqi Shi'ite city on Wednesday, police said.
China apartment fire kills 21
Beijing, December 12
At least 21 persons died in a major fire that broke out in a 28-storeyed residential apartment in east China's Zhejiang Province today, rescuers said.
6 soldiers, 15 rebels killed in Pak
Islamabad, December 12
Pro-Taliban militants killed six Pakistani soldiers today in an attack on a military convoy in the northwest, and 15 insurgents were killed in retaliation, a military spokesman said.
Cyclone ruined 40 pc Sunderbans: UNESCO
New York, December 12
About 40 per cent of the Sundarbans, Bangladesh's mangrove forest, was seriously damaged by the cyclone that struck the nation last month, the United Nations reported today.
US House adopts sanctions against Myanmar
Washington, December 12
The US House of Representatives has passed a bill putting a sanction on the import of Myanmar's gemstones and natural gas to the country in an effort to tighten the noose on military Junta after its lethal crackdown on pro-democracy protests.
Malaysian Oppn demands talks with Badawi
Kuala Lumpur, December 12
Malaysian opposition parties, led by former Deputy Premier Anwar Ibrahim, today demanded talks with Prime Minister Abdullah Ahmad Badawi over the "brutal" crackdown on anti-government protesters, including ethnic Indians.
Malaysia floods worsen
Kuala Lumpur, December 12
At least seven persons were dead and more than 25,000 displaced by pounding monsoon rains lashing parts of Malaysia. Weather office predicted more rains, especially in palm oil-producing region of Johor on country's southern tip.


An aerial view of trucks blocking a highway toll booth during a transport strike on the outskirts of Rome on Wednesday. Italian truckers defied a government demand to end a three-day-old strike on Wednesday, keeping in place road blockades that have dried up fuel supplies, closed factories and stopped food reaching the shops. The strike, in protest against high fuel costs and poor working conditions, meant supermarket shelves that are usually crammed with fresh fruit and vegetables were running bare, and most filling stations were closed.
— Reuters