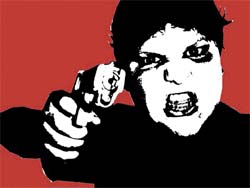 Part of growing up? Part of growing up?


After a mobile, laptop and & I-pod, is revolver the next thing your kid will ask for?
WEDNESDAY morning's headline left us numb and shocked — A class eight student in Gurgaon had been shot dead by two of his classmates on Tuesday. The 13-year-old boys took turns to shoot using a revolver belonging to the father of one of the kids. Later, they went about their normal routine sans remorse. Reason? The boy had been bullying them.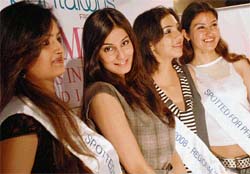 Banoongi main Miss India
MOST girls nurture one dream during the growing up phase — to win a beauty paegent and become a successful heroine. Well, for some the dreams change but for the girls who auditioned for the regional round of Pantaloons Femina Miss India 2008 they have'nt. Breaking from the usual routine of auditions this time, Miss India has decided to scout for talent across India, focusing on smaller cities, to give them equal opportunity.

Colleagues & friends remember Mulk Raj Anand on his 102nd birth anniversary


He

gave us more than just the legacy of Untouchable and Coolie. Yes, Mulk Raj Anand's association with Panjab University in the Tagore Chair for three years (1962-65) gave us lots more to talk about other than his literary achievement and brilliant academic career. On his birth anniversary on December 12, we probed a little about him from his one-time colleagues and friends and come up with much more interesting tit-bits something which a Google search cannot yield.

youth speak
Whither Indian kids?
It is an unsaid norm: Children are the future of any country and India is no exception. Sadly, going by the recent shootout in a Gurgaon school that involved two children of class 8 mercilessly killing their classmate, we are surely heading for doom.He introduces himself as Harry, the artist. Harminder Singh Brar, Harry for short, is a freelance textile designer who aspires to enter his name into Limca Book of Records. And he plans to do it by making a painting of 50 feet X 10 feet. Taking inspiration from life, Harry has executed his painting in 50 different pieces — all in abstract form. "Life is abstract, with all its unpredictability and uncertainty. So I depict life in symbols," says Harry, the artist. As a medium he has chosen ink and sketch pens.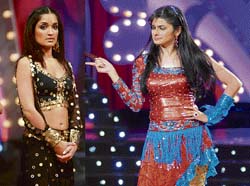 The sugary Prachi & straightforward Sandhya, both JDJ finalist, are quiet about their spat. Why? For, we, the voters, are watching them! We chat up the 'dancers' as they gear up for the final feat
Perfect moves
She always loved to dance and confesses to have jumped on the floor each given time. Well, she loves to do that even now. Then, what has changed? We ask Sandhya Mridul. "I was an okay dancer, except that earlier I danced like a boy and now I do it like a girl," she laughs.
SIDELANES
Thanks guv & m'lady!
IT'S an annual photograph that warms the heart — Jean Rodrigues mixing the season's first plum cake. She is also called the Lady Governor. I found it tough to swallow but was assured that it's the title given to the Guv's wife.

Amber-Dhara's daadu, Kanwarjit Paintal has a brand new passion — grooming raw talent
Artiste to the core
Well let us clarify — he is not the Shakuni mama of Mahabharata as we presumed, but Goofy Paintal's famous brother Kanwarjit Paintal, who played Shikhandi in the tele-serial. But the resemblance is so uncanny that we all, who went to hear him talking about the plethora of opportunities available for youngsters on behalf of Noida-based Isomes (International School of Media and Entertainment Studies) at Hotel ShivalikView.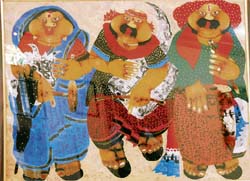 Ciao 2007
In 2007, the city saw various developments in the field of performing & fine arts. New faces arrived on the scene, offbeat theatre got a fillip, new art galleries were opened, creative photography & digital art were promoted... All in all, an arty affair!
Making a Mark
Wasn't it only yesterday when an excited-looking V. N. Singh invited us for the city's first 'sound and light' show at the Government Museum-10? Flipping through the file of newspapers revealed that 'yesterday' was almost nine months ago (on March 18 to be precise).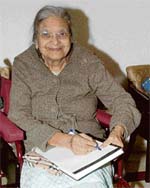 She found her muse at Seventy!
What does one do at seventy? Normally, either thank God for all his blessings or grumble about joint pains. In either case, it means retirement from life, at least from a productive life. The case is different for Shakuntala Brij Mohan. Her life started at 70, when a particularly episode helped her establish herself as a short-story writer. And now after meeting her when she is 88, we know what makes her such a formidable force — her zest for life and a passion for story-telling. "I am working on my 12th book. Three stories are already complete. But I am getting a little slow these days because of my osteoporosis problem," says Shakuntala.

Hip & happening
Victoria Beckham asked designer Roberto Cavalli to give her his hips so that she could fit well in the Spice Girls' tour's costumes. The Italian fashion designer, who designed clothes for the Spice Girls' comeback tour, revealed that Posh Spice wanted to experiment and surprise with her looks. Her only request was that we give her hips," said Cavalli.—ANI