'Badals should revive SAD glory'
Amritsar, December 14
Instead of opening a new office in Chandigarh there is need to revive the old glory of the Shiromani Akali Dal for which it was formed, All-India Shiromani Akali Dal president Jaswant Singh Mann said in a fax message to the media here on Thursday.
Mr Sikh International
All eyes on the grand finale
Amritsar, December 14
| | |
| --- | --- |
| The stage is all set for the much- awa- ited finals of Mr Sikh International to be held on December 15 at Khalsa College Amritsar when one of the 29 contestants would be crowned as the winner. | As many as 29 participants are vying for the coveted title. — A Tribune photograph |
Farmers in distress: Cheema takes up matter with Centre
Amritsar, December 14
Amardeep Singh Cheema, member of the Agriculture Working Group, 11th Five Year Plan of the Planning Commission of India, and director, Punjab Agro Foodgrains Corporation, took up issues of farmers of the state at the rural business hubs programme of the union panchayati raj ministry.
SME sector needs a boost: Ahluwalia
Amritsar, December 14
There's a need to rejuvenate the small and medium enterprises sector and understand the thrust areas in agro-processing, light engineering and textile industry besides putting emphasis on service sector.
Market Buzz
New apartments on anvil
Amritsar, December 14
Delhi-based real estate developers Collage Group have announced to construct "Collage Windsor Apartments" worth Rs 100 crore under its group housing plan in the holy city.
Meditation gives clarity of thought, says Guru Ma
Amritsar, December 14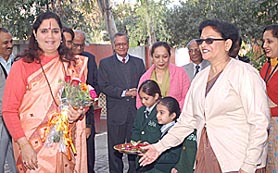 Teachers should be able to earn the respect of students and latter must treat their teachers as a guiding beacon. This was said by Gupreeti Hari (Guru Ma), a spiritual guru at a seminar organised by the Shri Ashram Public School on effectiveness of meditation, focus on mental, physical and spiritual well being leading to higher achievements in life.
Sri Ram Ashram Public School principal Preeti Sharad welcomes Guru Ma during her visit to the institution. — A Tribune photograph

Fight against femicide: DAV pitches in
Amritsar, December 14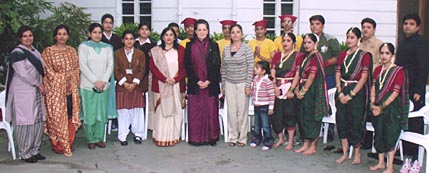 A team of the local DAV Public School staged a skit and a Marathi pooja dance against the scourge of female foeticide in Delhi recently.
Staff and students of DAV Public School with AICC chief Sonia Gandhi at Delhi. — A Tribune photograph

City boy Agam wins 'Funjabi Chak De'
Amritsar, December 14
Agam Shingari (6), a student of DAV Public School here became the youngest Amritsari to win prestigious title of "Funjabi-Chak De" in the programme telecast on TV channel 'Star One'.
Special courts for adulteration cases sought
Amritsar, December 14
The Amritsar Vikas Manch has urged the state government to set up special courts to ensure fast disposal of cases relating to the adulteration in fruits, vegetables and other food items vended with impunity.