Anti-incumbency mood in Palampur
Palampur, December 17
Anti-incumbency mood in the five assembly segments of Palampur region (the old Palampur sub-division was earlier split into three separate subdivisions) seems to have made up for the adverse affect the BJP was supposed to encounter owing to the party's decision to field Prem Kumar Dhumal as the Chief Ministerial candidate instead of Palampur-based party heavyweight Shanta Kumar.
Campaign din ends, poll on Dec 19
Shimla, December 17
The weather-marred and largely low-key campaign for the second phase of the assembly poll ended comparatively on a high note with national leaders of main parties addressing a series of rallies on the final day of electioneering today.
Rejection of nomination papers
No interim relief to PCC
Shimla, December 17
The Himachal Pradesh High Court today declined to give any interim relief to the Pradesh Congress Committee on the issue of rejection of nomination papers of the Congress candidate, Bodh Raj from Gangth Assembly segment.
Amarinder pitches in for Agnihotri
Una, December 17
A sunny day, a charged public and the last day of campaigning -Antokhgarh in Una district saw a lot of action amidst the din of electioneering. Leaders of Punjab and Haryana together pitched in for sitting MLA and Congress candidate Mukesh Agnihotri. The BJP and the BSP workers took to door-to-door campaigning to mobilise support for party candidates Jagrup Singh and Vijay Joshi respectively.
Vote out inefficient Cong govt: Siddhu
Mandi, December 17
The cricketer-turned-Lok Sabha BJP MP from Amritsar, Navjot Singh Siddhu, today spiced up the BJP election campaign with his witty anecdotes in the Balh segment, taking Congress leaders to task on the issues of development.
Sushma's chopper not allowed to land at Nagrota Bagwan
Kangra, December 17
It was a piquant situation at Nagrota Bagwan's when former union minister and BJP leader Sushma Swaraj was not allowed to land at the Gandhi Maidan where G. S. Bali former transport minister and Congress candidate from Nagrota Bagwan was holding a public meeting and both the Congress and the BJP claimed that they had sought the permission from the concerned authorities for their respective purposes.


BJP complains to CEC
Thein dam oustees to abstain from voting
Dalhousie, December 17
The families that were displaced for the setting up of Thein Dam (now Ranjit Sagar) hydroelectric project have decided to abstain from voting this time. The decision comes in the wake of government's failure to give job to one member of 215 ousted families even after 10 years.
'Elephantine' trouble for BSP
Nahan, December 17
Defacement of public property is emerging as the most common violation of the model code of conduct in Sirmaur, with the BSP taking a lead in the matter.
Jolt for BSP as state unit chief quits
Shimla, December 17
The BSP suffered a setback on the eve of the assembly poll when its president Balwant Singh resigned after making serious allegations against the leadership
of the party.
Hard Disk Data
CM: Dhumal misleading people
Shimla, December 17
Chief Minister Virbhadra Singh said today that by questioning the authenticity of the data recovered from the hard disk of his computer BJP leader P.K.Dhumal was only betraying lack of confidence in the Central Forensic Laboratory controlled by then Union Home Minister L.K. Advani.
Dhumal practised political bias in jobs: Yechury
Shimla, December 17
Senior CPM leader Sita Ram Yechury today said the negative recommendations made by former Chief Minister P. K. Dhumal for not selecting certain candidates as they had a CPM background was a serious matter which indicated that jobs were given during the BJP regime on political considerations.
Chamba
Minorities to decide poll fortunes
Chamba, December 17
Chamba district will witness a keen contest in the Vidhan Sabha poll this time. While no candidate has an upper hand, it is the minority communities, including the Gujjars and the Gorkhas, which will decide electoral fortunes of contesting candidates.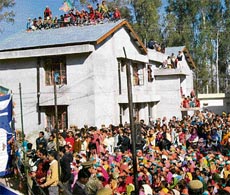 BJP rally puts patients to hardship
Fatehpur (Jwali), December 17
Scores of patients and school students were put to hardship for over six hours due to a political rally which was addressed by BJP's prime ministerial candidate L.K. Advani here today. Advani addressed a gathering of over 4,500 at a venue sharing its boundary wall with a community health centre (CHC) and a government senior secondary school, in support of his party candidate Rajan Shushant from the Jwali constituency.

BJP supporters perched atop the roof of the community health centre during a rally addressed by L.K. Advani at Fatehpur in Jwali on Monday. — A Tribune photograph

Parties slug it out on steel plant
Paswan luring voters: BJP; EC marks inquiry
Shambhuwala, December 17
Union steel minister Ram Vilas Paswan's assurance of setting up a multi-crore steel plant has snowballed into a major poll issue in the Nahan constituency.
Poll parties told places of posting
Mandi, December 17
The poll parties that would man over 5,942 polling stations in the state came to know about their exact place of duty today. The chief election commissioner had kept the information secrete as "part of its new strategy to avoid pressure tactics by candidates in the fray so as to ensure free and fair elections on December 19.
Alphabetically arranged voter list
Shimla, December 17
In order to facilitate the electors on December 19, the electoral rolls in the state have been prepared alphabetically.



Video
Kiwi cultivation.
(56k)