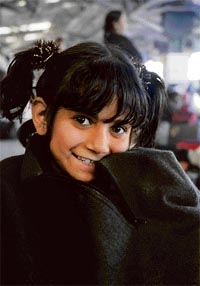 A child tourist feeling amused in traditional Kashmiri dress Pheran in Jammu. — A Tribune photograph
Village with 100 pc literacy rate
Thial (Udhampur), December 18 Despite being the most neglect terrain of Udhampur district, this Kandi village of Ramnagar subdivision of Majalata tehsil sets examples for others as it is the only area in the district with 100 per cent literacy rate. Comprising all castes and sub-castes, 85 per cent population of this village, including men and women, are in government jobs.
Domestic violence: Husbands victim in new script
Srinagar, December 18
A woman, who was facing murder charges for killing her first husband in Sopore, has finally been arrested by the Handwara police, 18 months after she killed her second husband.
Need to mobilise rural women into self-help groups
Jammu, December 18
State minister for rural development Jugal Kishore Sharma has underscored the need of mobilising rural women into self-help groups (SHGs) for bringing about socio-economic transformation of the rural areas. He said NGOs should coordinate with the government agencies for popularising micro financing and organising of SHGs for establishing income-generating units.
Bypoll: BJP not happy with performance
Jammu, December 18
The state unit of the BharatiyaJanata Party is not happy with the performance of the party candidate in recently concluded Poonch bypoll.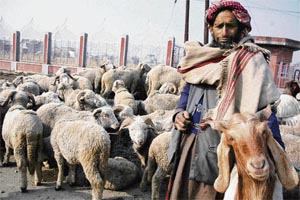 A Kashmiri sheep seller waits for customers at Eidgah, ahead of the Id-ul-Azha, in Srinagar. — Tribune photo by Amin War
Demand for opening more colleges
Srinagar, December 18
The recent approval of the state cabinet for opening 18 more degree colleges, nine each in Kashmir and Jammu divisions, the government has invited public anger in many parts of Kashmir valley, which have been either allegedly ignored or unevenly covered. Even as 22 more degree colleges were set up during the past five years of coalition government, this decision has come within one year of the setting up of eight new districts in Jammu and Kashmir.
Educational tour ends
Srinagar, December 18
An educational-cum-motivational tour for 35 children from remote localities of south Kashmir was organised by the Victor Force, which began on December 5, concluded today.
Placement cell opened
Rajouri, December 18
Students of Rajouri and Poonch districts, pursuing professional and degree courses, have something to cheer about. The Baba Ghulam Shah Badshah University (BGSBU) has opened a placement cell for its students pursuing professional courses and for those doing degree courses in various colleges of these two districts.
Democratic front greets people on Id eve
Jammu, December 18
The Jammu and Kashmir Peoples Democratic Front has congratulated the people of the state on the eve of Id-ul-Azha and appealed to the government to ensure availability of essential commodities in the market. The festival of Id falls on December 21.
BSF foils intrusion bid
Jammu, December 18
The Border Security Force (BSF) last night foiled an intrusion bid at the international border from Abdullian in the RS Pura sector here.
Relief to drought-hit families demanded
Jammu, December 18
Sitting legislators GM Saroori, Moulvi Abdul Rashid and Abdul Majid Wani today called on education minister Peerzada Mohammad Sayeed, chief secretary B. R. Kundal and principal secretary to Chief Minister Anil Goswami, and highlighted the difficulties being faced by the drought-hit people of Doda, Kishtwar and Ramban districts.
Army organises camp
Srinagar, December 18
The Ninth Rashtriya Rifles organised a medical and veterinary camp in Kulgam district of south Kashmir today.
'New Sholay' a big hit
Srinagar, December 18
The magic of Sholay is again casting a spell on Kashmir as people are thronging video parlours for a compact disc of a homegrown version of Bollywood's biggest blockbuster.