Rawalpindi in top five police stations of country
Phagwara, December 18
Rawalpindi police station, presently a unit of the Sadar police station, has not only been adjudged the best police station in the state but has also been included in the top five police stations of the country.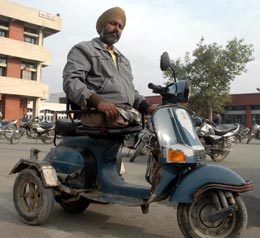 There's no stopping this fighter
Jalandhar, December 18
Forty-year-old Mohan Singh can be a source of inspiration for many like him. Even as he has his both legs amputated up to the hip portion, he drives his scooter, works in his fields, looks after his farm animals and is independent in every respect. Hailing from Lasoori village in Shahkot subdivision, he came to the district administrative complex today for his work driving his scooter more than 50 km.
Mohan Singh may have lost his both legs to an accident, but not his spirit. — A Tribune photograph

Food poisoning leaves one dead, two hospitalised
Phagwara, December 18
One person died, while two others fell unconscious due to food poisoning at Hoshiarpur road on Tuesday. The deceased has been identified as Vikramjit Singh (20), a resident of Bassi Anoopa.
Young World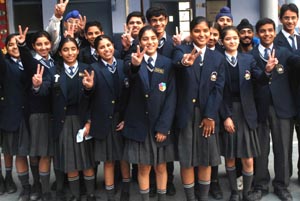 BEd students put up exhibition of teaching aids
Jalandhar, December 18
The B.Ed students of MGN College of Education put up an exhibition of teaching aids, prepared by them on the campus. Best teaching aids in all categories, including social sciences, mathematics, languages and physical education, were prepared by Rupinder, Vani, Harpreet and Kanchan, respectively. Dr Amit Kauts, principal, felicitated the winners.
Students of Police DAV Public School pose for a photograph after qualifying for the semi-finals of Asian Space Settlement Competition. Tribune photo by Pawan Sharma

Chaplain Zed to recite shlokas in New Mexico Senate
Phagwara, December 18
New Mexico State Senate of USA will have its first Hindu prayer, containing Sanskrit mantras on January 28.


Belle Balle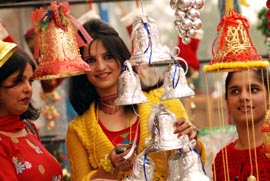 With X'mas round the corner, the city markets are abuzz with activity. — Tribune photo by Pawan Sharma

Army coaches likely to train police teams
Jalandhar, December 18
Army coaches may start training different police teams in the country. In a chat with mediapersons, the director of intelligence bureau PC Haldar, also chief of the police control board, said if state DGPs forwarded him a proposal for engaging army coaches training different police teams it would be discussed positively.
Rai Business School launches new scholarship
Jalandhar, December 18
Rai Business School, one of the top ranking management institutes in the country, has launched the Girl Genius Scholarship Programme-2008 for 100 deserving girl students.
Market Buzz
Roca launches sanitaryware in city
Jalandhar, December 18
Roca, the Spanish world leader in sanitary ware, lunched its first showroom, Lovely Sanitations, on Nakodar road, here on Monday.
PTU deadlock continues
Jalandhar, December 18
The PTU deadlock continued for the sixth day today with talks between the employees and management failed to yield any fruitful result.