Young World
Lyallpur college holds workshop on DNA technology
Tribune News Service
Jalandhar, December 27
The department of biotechnology from Lyallpur Khalsa College is organising a 12-day workshop on "Basic techniques in recombinant DNA technology." Head of the department Dr Arun Dev Sharma said the workshop would focus on myriad of different techniques used in molecular manipulation of DNA and RNA.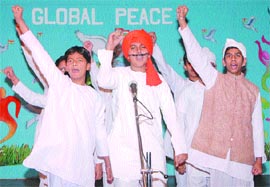 Students of Innocent Hearts School present a patriotic song at the annual prize distribution function in Jalandhar. — Photo by S.S. Chopra
Speaking on the applications of DNA, Dhiraj Vyas, lecturer from Shri Mata Vaishno Devi University, Jammu, said the first practical application of recombinant DNA technology was production of human insulin in cultured bacteria. "Since then, over 100 human proteins with medical applications have been expressed in bacteria and technology has been extended to yeast, filamentous fungi, animal and plant cells, and transgenic animals and plants.
Agriculture has reaped the greatest benefits of the technology as a number of transgenic crops are sown around the world", he said.
Annual day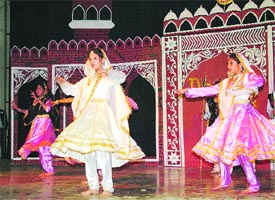 Students of Apeejay School perform a dance at their annual function in Jalandhar.
Apeejay School, Rama Mandi, celebrated the sixth annual day. An exhibition titled "The first war of independence" was put up. The celebrations were based on the glorious achievements of great Indians and all sung and unsung heroes who sacrificed their lives were remembered in the programme titled "Azadi ki chingari."
Kids dressed up as Nehru, Mahatma Gandhi, Mangal Pandey, Rani Laxmi Bai, Dr Ambedkar, Swami Vivekanand and Swami Dayanand as they performed a live show.
Seminars held
A seminar and paper presentation on commerce was held at ICFAI National College. Gurjot Kaur of the Apeejay College of Fine Arts presented a paper on "Plastic money - its present and future." A paper on "Outsourcing - its rationale and types" was presented by Pooja Gaba, HoD from commerce department of Trinity College.
The department of commerce of Kanya Maha Vidyalya organised a seminar on "Avenues available after graduation in commerce." Managers from the Trinity Centre of Learning enlightened the students about preparing for various competitive examination for doing MBA.
Debate organised
State Public School, Nakodar, organised a debate in which teams from 15 leading schools participated. The topic of the debate was "Media is creating hype and frenzy in society." The overall trophy and cash prize of Rs 5,100 went to Apeejay School.
The MGN, BCM, Ludhiana, and State Public School, Nakodar, teams were declared the first runners up. Individual prizes went to Gurbani of Apeejay, Parajeet of Guru Nanak Public School and Prabhjot of State Public School.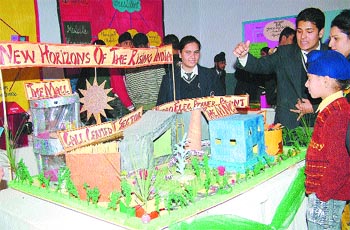 An exhibition "Vasundhara Vaibhav," which was organised at Police DAV Public School in Jalandhar.
Exhibition on earth
An exhibition "Vasundhara Vaibhav" was organised at Police DAV Public School. The exhibition was inaugurated by MP Naresh Gujral. Pre-primary wing students displayed the beauty of earth through a vast spectrum of greenery, flowers, fruits and forests. Prize distribution function was presided over by Punjab DGP N.P.S. Aulakh.




Nitish Tops
Nitish Jain of the Lovely Institute of Technology has stood third in computer science and engineering, fourth semester, examination, conducted by Punjab Technical University. He has scored 85.8 per cent marks in the overall merit list of the university.
Army selections
Two students of the DAV Institute of Engineering and Technology have been selected to join the defence forces. Akhil Mahajan, final year student of electronics and communication engineering, has been selected by the army under the university entry scheme. The army had conducted the preliminary rounds of interview in DAVIET while the final selection was done by the Service Selection Board (SSB).
Abhishek Mahajan, first year student of B.Tech, electronics and communication engineering, of the DAV Institute of Engineering and Technology got selected in the National Defence of Academy (NDA).
Extension lecture
The planning forum of Hans Raj Mahila Maha Vidyalaya organised an extension lecture on the topic "Determinants of economic growth." Dr S.S. Johal, former vice-chairman, Punjab Planning Board, was the key speaker.
He spoke on the importance of quality education for promotion of meaningful development.
Annual functions
A prize distribution and cultural programme was held at Seth Hukum Chand SD Public School, Kapurthala Road. Students presented recitals of school prayer and "Saraswati Vandana." A colourful panorama of plays, dance and music was also presented. Ballet, Tibetan dance and dandiya were performed by senior classes.An annual cultural and prize distribution function was held at Innocent Hearts School. The annual report was presented with glimpses of achievements of students in the previous session. The chief guest was Punjabi singer Manmohan Waris.
The prize distribution function of Shree Parvati Jain Co-Ed Senior Secondary School, Shree Mahavir Jain Senior Secondary Model Schol and Shree Rajmati Jain Girls' High School was held on the premises of Shree Parvati Jain School on Saturday. Chief Justice of the Punjab and Haryana High Court Virender Jain was the chief guest.
Mobile repair
A training programme on mobile repair was inaugurated at RUDSET Institute. Assistant general manager of Canara Bank S.N. Munshi was the chief guest.
Director of the institute Amarjit Singh Chhina said 38 youths were participating in the month-long training programme.
Athletic meet
The annual athletic meet of Lyallpur Khalsa Collegiate Senior Secondary School was held recently. Students participated in 100m, 200m, 400m, sack, three-leg and spoon races, shot put and long jump competitions. Teachers participated in musical chairs and 100m race. Jasmeet stood first in 100m race among girls while Gurpreet Singh was the fastest runner in the same race among boys.
Badminton tourney
The second open Punjab state badminton championship was organised on the campus of St Soldier, Lidhran, by the Punjab State Badminton Association.
The women team of Jalandhar bagged the winning trophy. Patiala team lost by 29-15, 29-20.
In men's category, Amritsar team bagged the trophy. Jalandhar lost by 29-28 and 29-27. Neha of St Soldier College, Jalandhar, and Sarabjit Singh of Amritsar were declared the stars of tournament.