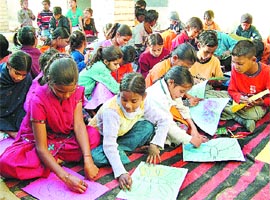 School gets a facelift
Jalandhar, December 27
Till a few months ago, the Government Elementary School at Basti Peer Dad had a dingy building. The road outside the school was in bad shape. There was a huge garbage dump near the gates, making the entry uninviting. But things have changed ever since an NGO started evening classes for the children of labourers in the same building.

Students of a school run under the National Child Labour Project attend a drawing class at Basti Peer Dad in Jalandhar. — Photo by S.S. Chopra

Young World
Lyallpur college holds workshop on DNA technology
Jalandhar, December 27
The department of biotechnology from Lyallpur Khalsa College is organising a 12-day workshop on "Basic techniques in recombinant DNA technology." Head of the department Dr Arun Dev Sharma said the workshop would focus on myriad of different techniques used in molecular manipulation of DNA and RNA.
For girls' sake
Actress Jennifer Love Hewitt has turned down an offer to bare all in Playboy magazine. Hewitt made headlines recently when she responded on her blog to unflattering vacation pictures of her in a bikini, which prompted some tabloids to poke fun at her figure. — ANI