Young World
City schools rejoice as Santa comes calling
Tribune News Service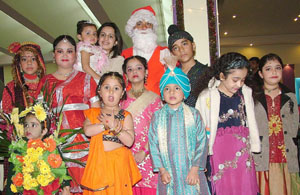 Children pose with Santa at a city bowling alley in Jalandhar on Tuesday. — Photo by S.S. Chopra
Jalandhar, December 25
Christmas was celebrated by organising dance and fancy dress competitions for the kids at Prithvi's Planet.
As many as 54 children participated in the contests and came dressed up as princess, Santa Claus, flower arrangement, don and Punjabi folk artistes.
The event was judged by Vivek Aggarwal, owner of a dance academy, Inderjot Bawa and Preena Bawa, both directors of the Bawa Group of Industries.
Charan Kamal, Parneet, Gaganjot and Aliya were adjudged as winners of the fancy dress competition.
In the dance contest, Charan Kamal, Perneet, Seerut, Ahi3a and Siya won prizes in the category of three to six years, while Meenal, Amreen, Harnoor, Aastha, Gurnoor, Kawalpreet, Saksham, Shreya, Gur Ekam and Ashish were declared winners in the category of seven to nine years. In 10 to 12 years category Hitesh, Archit, Tuhina and Salit were the prize winners.
Meenal Gupta won the prize for the best costume, while Astha was adjudged as best folk performer. Manpreet, Akansha and Nishtha, were declared as winners in western dance, classical dance and fusion dance, respectively.
Eklavya School celebrated Christmas by decorating school with bells and balloons. A Christmas tree decorated with stars, toffees and streamers was also displayed.
Some children dressed up as Santa Claus distributed Christmas gifts like photoframes, wall hangings and fairies among the students.
Children had a great time singing carols and dancing all around. A sumptuous cake was also served in all the classes. The children were also taken to a church where they lighted candles.
A special assembly was held at Delhi Public School to celebrate Christmas. The students exquisitely recreated the birth of Christ.
It began with a special prayer followed by recitation of '10 commandments.' The event was followed by enactment of events related to the birth of Christ in their chronological order.
Students were dressed up as Mother Mary, Joseph, King Herod, the wise men and the shepherds and the background rendered a very authentic look. It was followed by carol singing in the praise of Jesus.
A fairy dance was also presented by the students of the primary wing. Students were merrily dressed in red and white colours which added to the fervour.
Mayor World School was under the magic spell in the Christmas season as was evident from the house board decorations.
Shakespeare house decorated its board around a sleigh of Santa, while Wordsworth house had Jesus Christ blessing children.
Mouth watering Christmas recipes was the theme of the Dickens house, whereas Keats house depicted Santa in all his glory.