PUNJAB

HARYANA

JAMMU & KASHMIR

HIMACHAL

REGIONAL BRIEFS

NATION

OPINIONS

MAILBAG

BUSINESS

SPORTS

WORLD


Every Wednesday and Friday

Potato junkies, romance your palate
Jalandhar (Partabpura), December 25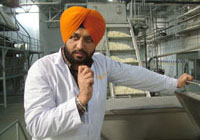 Till a decade ago, he was a simple farmer cultivating potatoes in a few acres of land. But with his vision and planning, Mandeep Singh Lally has now become the only farmer in the region to have set up a fully automated, computerised processing plant. Mandy's catching fancy of many.
Hike Hitch
Industry fumes over PSERC order on security deposit
Jalandhar, December 25
The Jalandhar Chamber of Industries and Commerce, in association with nearly 12 other industry-based bodies, today resolved to oppose the order of the State Electricity Regulatory Commission (PSERC) regarding enhancing the security deposit of commercial consumers.

He's here to test his percussion precision
Jalandhar, December 25
If you think those who are born and brought up outside India don't have any inclination to Indian classical music, this young chap proves you to be wrong.
Satvinder Sehmbey
RUDSET: Destination finale for rural youth
December 21, 2007

Repair refusal costs Nokia Rs 22,000
December 19, 2007

Now the blind can become tech-savvy
December 14, 2007
Octroi move: Voices of dissent grow
December 12, 2007
NRIs hop on airport buses for a ride home and back
December 7, 2007
Siblings crack PCS in first attempt
December 5, 2007
Is your kid taking a risky ride?
November 30, 2007
Pending projects: NC chief pins blame on officials
November 28, 2007
Residents take matters into their hands
November 23, 2007
Mend your ways or face MC stick, mayor tells squatters
November 21, 2007
Petrol pilferage: Cops 'shielding' bigwigs
November 16, 2007