City girls say no to fairness creams & are proud of that dusky look once again
You may still be unfair to the not-so-fair femmes, while looking for all those fair-complexioned beauties offering themselves for matrimony through newspaper advertisements. But the dark and dusky sirens in the city are bright and cheerful about their ebony looks. And now that dusky-eyed Bipasha Basu has again bagged Asia's sexiest woman title, they have another reason to say no to the fairness preparations dazzling like in city's cosmetic stores. That's right fellows! For them, fairness creams and lotions, promising to change the colour of their lives is not an essential part of their beauty kits. No, not any more.There are ways to keep yourself warm & look chic on the D-day
You want to dazzle as a bride and you have the looks and resources to do so. But there is a hitch. It's shivering cold and chances are that without the aid of warm clothes you might just turn blue. So, what do you do? Walk to the mandap shivering or look like a polar bear in a pile of woollens? No, you can't compromise on your looks or health on your D-day. We'll tell you to look like a million bucks and be warm too. Start with the ensemble. "Chose heavy materials like brocades, raw silk, tissue and velvet, for they are thick as compared to the lightweight nets and chiffons," says Babi Grewal of Babi-8.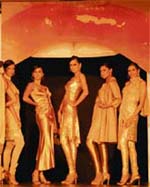 BIG ruled the roost
Bright colours, bold prints, trends of the 70's, sequined kurtis, layered tops, skinny denims...the city sported it all
Fashion got bigger and better this year. Big shades, big bags and even big kalis in suits. All was indeed bigger. Even the fashion stretch was big. Everything seemed to work. Stretch jeans or straight fits, tank tops to the long kurtas and tunics, or long kurta or the long mughal cuts. There were a host of options for the fashion conscious breed to pick from!
Western Look
Be it malls, shops or even our reasonable patri market all had long tops and tunics hanging, waiting to be taken away.
A proud achiever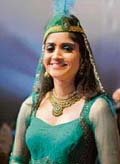 Twenty-two-year old Veena Parashar had just completed her masters in Psychology and Music when she appeared for the Delhi auditions of Filmy's Bathroom Singer. A show for the search of a singer with a combination of singing and entertainment quotient, the Delhite sang Nayi nahi yeh baaten from Parineeta and secured first an entry and then a title in the show. We chat up the first girl winner of a reality show on Indian telly. Richer by a whopping Rs 25 lakh prize money, a title in the kitty and a huge fan following eager to receive her back home in Delhi, the budding singer cannot help but giggle with excitement.
Through the eyes of Karun
It's almost a decade since we have heard from him. When Naresh Kumar 'Karun' brought his paintings for an exhibition at the Government Museum and Art Gallery-10 in 1997, he exemplified the fact that if one has the potential and the right source of inspiration, nothing can stop one from excelling in a chosen field — not even a demanding teaching job in a college!
Matka Chowk
Temporary Dwellers
Albeit real estate prices in Chandigarh are skyrocketing – almost toppling Manhattan prices, the boom in buying and building have reached a feverish, almost uncanny proportion. Nice old houses are being torn down in what seems like a heartbeat and ultra modern villas of almost obscene proportions are being erected in their place.
First Day First Show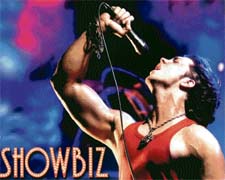 Total letdown
Showbiz: Avoidable
From the sublime to the ridiculous — a week sees it all. Seven days ago, stars descended on earth along with Aamir Khan. As Taare Zameen Par turned us into a community of stargazers, we realised may be it was not time to write an obituary of meaningful cinema. How wrong we were! We had not contended with the likes of Raju Khan who was miffed at us for not seeing the ugly of Bollywood in 2007. We submit to his wishes.Hanuman Returns: Avoidable
Hanuman Returns, the sequel to Hanuman — which its producers refuse to call as a sequel — fails to create the charm that Hanuman did, released almost two years earlier. Or, was it that we expected too much? Whatever be the reason, Hanuman Returns tries hard to impress, but fails miserably. This movie is an attempt to blend mythology with the present day world and to make kids see that ultimately good prevails over evil. 
Hollywood suffocates Keira
Keira Knightley has blasted Hollywood residents for leading a narrow-minded life. The Pirates Of The Caribbean star says that she could never survive in such a suffocating environment.
Stress Buster
Call him Guru Stress Buster, or just a motivational speaker, Bangalore-based Anoop Kapoor tells you how proactive conscious living helps you cope up with day-to-day mental and physical stress that comes as an interest on fat pay packages.
Write to Renee
I am 21-year-old and every relation I have had till date, be it family or others, has not been strong. I feel I am not important for anybody. I am not even confident. At home my hands shake if I do some housework because I think whatever I am doing is going wrong. This way I will have lot of trouble after marriage. Please advise.