Medical technologists
Usha Albuquerque
Medical laboratory technologists are an important link in the medical profession. They are concerned with diagnosis, treatment and prevention of diseases through the use of clinical laboratory tests
Joining a medical college as an MBBS student is not the only route for entering the medical field. With the increase in medical facilities, hospitals, healthcare centres, polyclinics, nursing homes and diagnostic centres, there is not only a demand for trained doctors and surgeons in various fields of specialisation, but also for medical experts and technicians in different areas.

Careercature
Sandeep Joshi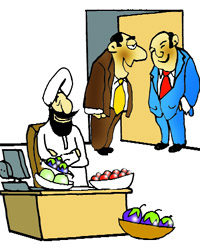 Meet our new farm produce marketing consultant.

Shell to cut 3,200 jobs
Sean O'Grady
The oil major Shell is thought to be preparing to shed around 3,200 jobs, mostly in its information technology division. The company has informed staff it is planning to outsource "a substantial part" of its IT infrastructure services division, believed to comprise a total of 3,600 persons.


Ways to face panel interviews
R.C. Sharma
The basic premise, whether you are facing one interviewer or 21 is the same - get a conversation going where the employers can get to know you and vice versa. The company's top brass and supervisors are teamed up so that everyone involved in the selection decision can meet, ask questions and then select the best candidate on the established parameters.

'Vacation makes workaholic ill'
Spending a lazy holiday on the beach, listening to music, gorging on your favourite food or whizzing off for winter sports to break free from a workaholic schedule can make you fall sick, experts warn. According to a study, illness goes up when the stress of work goes down. The condition termed as "leisure sickness" leads to aches and pains, cold and flu-like symptoms and other health problems just when people tend to take a break from their busy schedule to enjoy a little relaxation.

Bits & bytes
Brilliant Tutorials, FIIT-JEE penalised
Professional coaching institutes FIIT-JEE and Brilliant Tutorials have incurred the wrath of the Delhi Consumer Commission for their failure to refund fees to students who opted out of a course in the middle of a session. Dismissing the appeals of both the institutes in separate decisions, the commission pulled them up for ignoring its earlier direction restraining educational institutes from collecting a one-time fee for a two or a three-year course.

Fair sex yet to blend in bars
The Supreme Court may have allowed women for bartending but bars in the Capital are yet to hear footfall of female professionals. The fear of social stigma is seemingly preventing girls from getting into this area though several are showing interest.

Hiring right; one bad hire can cost dear
Jamie Herzlich
Ever wonder what one bad hire can cost your company? As a rule of thumb, it will run you about one-third of a new hire's annual salary to replace him or her, labour experts say. That's why it pays to hire right the first time. And this means doing more than just running an ad in the paper, the experts say.

Looking for a mentor? Start with someone you know
Mary Ellen Slayter
Dennis Damp, author of "The Book of US Government Jobs", recently was a guest on Career Tracks, an online discussion about workplace issues. Here is one of the questions he was asked, and his response.

Internship programme
The Department of Economic Affairs, under the Finance Ministry, has formulated an internship programme for young scholars.

Apparel training centre
Union Information Technology and Communication Minister A. Raja has inaugurated the fifth Apparel Training and Design Centre at Perambalur to empower women and employable youth.

Career Hotline
UK varsities unplugged
Pervin Malhotra
Q Can you please tell me which are the best universities to study in the UK? Different agents say different things. I am told that the better the ranking of the university, the better the earnings.