DOGGONE WHITE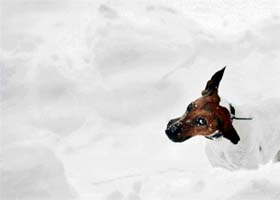 A dog plays in the snow during a heavy snowfall in Sofia, on Wednesday. Heavy snowfall and strong winds forced Bulgarian authorities to close down major Black Sea ports and cancel a number of flights from the country's two biggest airports. — AFP
Security
Bhutto 'rejected' US advice
New York, January 2
The US officials had asked Benazir Bhutto to hire Pakistani private security companies instead of foreign firms for protection in the wake of the threat to her life, but the former Prime Minister and her husband rejected the advice.
Al-Qaida Link to Bhutto Killing
US not buying Pak claims
American intelligence officials are not accepting Pakistani claims that a militant with ties to Al-Qaida masterminded the assassination of Benazir Bhutto. Soon after the former Prime Minister was assassinated in Rawalpindi on Thursday, Pakistan President Pervez Musharraf's administration released a transcript of a phone conversation involving Baitullah Mehsud, a militant leader.
After bullets, lever, now it's laser beam
Islamabad, January 2
The controversy over former premier Benazir Bhutto's assassination has taken another turn with a section of her Pakistan People's Party (PPP) claiming she was targeted with sophisticated "laser beam technology".
Next-gen Bhuttos ready to take the mantle
Islamabad, January 2
Bilawal Bhutto Zardari wants to seek revenge through democracy. His sister Bakhtawar would have liked to be a punk star. Cousin Fatima, a bitter critique of Benazir, became an author at 15 and her brother Zulfiqar Jr is passionate about environmental issues and helped a blind dolphin return to sea.
French minister offers help
Islamabad, January 2
French foreign minister Bernard Kouchner in a meeting with President Musharraf on Wednesday stressed that elections to be held on time and must be free, fair and transparent.
Australia to review citizenship test
Melbourne, January 2
Australia will review its controversial citizenship test introduced three months ago after 20 per cent of aspiring citizens were found to be flunking the exam, slammed as "racist" by critics.
227 Indians die during Haj
Dubai, January 2
As many as 221 Indian pilgrims died during the Haj this year due to natural causes, while six others were killed in road accidents. An Indian official said that India had sent 1.57 lakh pilgrims that included 1.1 lakh who came through the Haj Committee of India and while the rest arrived through the travel operators from various Indian cities.
5 die in Colombo blast targeting army bus
At least five persons were killed and 28 others injured in a claymore mine explosion targeting a bus carrying military personnel in the Colombo city on Tuesday morning, coming just a day after a prominent Tamil legislator was gunned down in the city.


In video (56k)
NRI's appointment kicks up row
London, January 2
The appointment of a leading NRI doctor to the House of Lords has kicked up a row in London with a probe sought into the alleged donations made to the Liberal Democratic Party by Alpha Healthcare, which is linked to him.
Help arrived 30 min after tiger attack on Indians
Silicon Valley, January 2
The two brothers of Indian-origin, who survived the deadly Christmas Day tiger attack at a San Francisco zoo, had to wait for 30 minutes before security personnel called for help, their lawyer claimed.
Limbo-Skating
Indian boy heading for record books
London, January 2
A six-year-old Indian boy, Aniket Ramesh Chindak, is heading for record books after "limbo-skating" under 57 cars in less than a minute. With legs split and chin almost skimming the road, Aniket is no more than bins above the ground when he disappears under four-wheel-drives in Belgaum, The Daily Telegraph reported today.



Videos
Myanmarese Foreign Minister visits India
(56k)
Death Toll rises in Kenya, as Gordon Brown appeals for peace
(56k)