Cool Crooner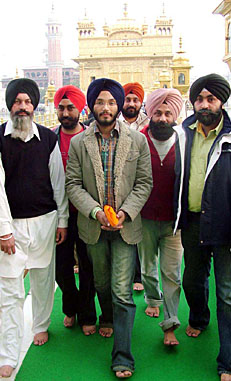 Ishmeet Singh, winner of Star Voice of India, pays obeisance at the Golden Temple. — Photo by Vishal Kumar

Go soft, give your tiny tots a cuddly care
Amritsar, January 4
For those keen on bringing up their little ones in style, a whole new range of kids' accessories are now available in the city. And if you are the kind of parent who loves to splurge on your newborns, an exclusive kids' store would make sure that you never run out of ideas to pick an amazing gift or make yet another addition to your child's fun corner.
Jaggery juices up business for border belt
Amritsar, January 4
Farmers of the border districts are a happy lot because of the instant profit that their part-time occupation of producing jaggery from sugarcane crop provides them. No hike in price of sugarcane by the centre has failed to dampen their spirit.
Pulse polio drive from Jan 6 to 8
Amritsar, January 4
The district health department is all set for another round of the pulse polio campaign to be held across the state on January 6, 7 and 8.
Regularisation
Daily wagers flay SAD for 'not honouring its word'
Tarn Taran, January 4 The daily wage employees here flayed the SAD-BJP combine government in the state for 'not fulfilling its poll promises. The protesters organised a massive rally, which was addressed by leaders of the PWD field & workshop workers' union Balkar Singh and Baljinder Singh.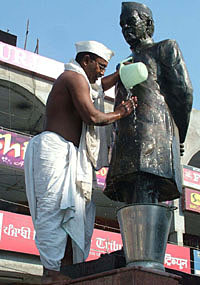 Operation statue shine: One-man army gets going
'It's my way of paying tributes to great men'
Amritsar, January 4
With the municipal councillors busy over the issue of putting up more statues of political leaders on the city crossings, this man has taken upon the tricky task of cleaning the existing sculptures. Sham Lal Gandhiwadi, a follower of Mahatma Gandhi, said it was disheartening to see the pathetic condition of the life-size statues of freedom fighters and political leaders who sacrificed their lives to make India a better place.



Sham Lal, a Gandhian, says the poor upkeep of statues always bothered him. So he decided to take matters in his hands.

Gurparb gaiety
Amritsar, January 4
A religious procession was taken out to mark the birth anniversary of tenth Sikh master, Guru Gobind Singh. It began from Akal Takht here today.