Go soft, give your tiny tots a cuddly care
Tribune News Service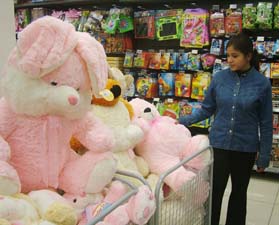 Soft toys of all shapes and sizes are available in the market these days.
Amritsar, January 4
For those keen on bringing up their little ones in style, a whole new range of kids' accessories are now available in the city. And if you are the kind of parent who loves to splurge on your newborns, an exclusive kids' store would make sure that you never run out of ideas to pick an amazing gift or make yet another addition to your child's fun corner.
The wide range of products include kids' bathing kit, cots, blankets, quilts, gloves, rocking chairs, colourful stationery, games…the list is endless.
Sanjay Khatri, manager, Ritu Wears, Lawrence Road, tells us that the baby cots at their kids' section are one of the most popular items. The cots come in two types - wooden (Rs 7,385) and synthetic (Rs 4,983).
"Actually, these are cradle plus cots and can be of used till the child is two years' old. The cots come with mosquito nets and hangers to tie danglers to keep the child busy. We are selling a couple of pieces every week," he says.
Talking about "costly" gifts, the wide range of Barbie dolls gives you ample choice to choose a theme doll from Rs 800 to Rs 3,000. The "Sundari Gujarati" Barbie doll of "Expressions of India" collection comes for Rs 2,999 and the "Wedding Fantasy" has a price tag of Rs 1,199. Gopal Gift Store in Hall Bazaar also offers all the latest toys and gadgets. "We have helicopters which can go up to 20 feet high. Such toys instantly catch the fancy of kids," says its owner.
Rajat Bansal of Deep Gift Store on the Majitha road says the market has been flooded with electronic games. Most of the branded stuff has affordable cheaper Chinese or local versions. For instance, a scientifically designed bathing set for newborns, wherein the child is made to lie on his back, can be bought for less than half the price of the branded one. Sonali Bhatti, a customer, says even though men do get carried away on coming across a flashy kids' accessory, women still stick to the "utility theory" before loosening their purse strings.
To keep kids safe from the chill, a complete bedding kit includes kid's blankets, bedsheets, comforters, quilts and shams to tuck the babies in for a tight sleep on winter nights.
Most new garment stores coming up in the city too have a separate section for kids and a wide range of clothing from newborns onwards is available in toddler, twin, full and queen sizes.