Improve environment, prevent cancer
Dr Meenal Kumar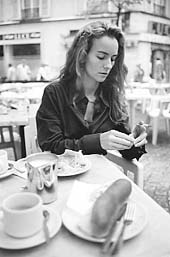 The other day we noticed on a table next to ours in a club a group of women drinking, smoking and dining to their heart's content. The pretty ladies were taking a serious health risk even if they felt socially liberated. Could one or more of them suffer from cancer?
One of the hopeful messages from cancer research is that most of the cases of cancer are linked to environmental causes, and can be prevented. The environment includes both lifestyle factors such as diet, tobacco and alcohol, and radiation, infectious agents and substances in the air, water, and soil. A review of the recent scientific studies shows compelling evidence linking cancer with specific exposures. Breast cancer may be caused by exposure to DDT before puberty, prostate cancer by pesticides and metal working fluids, Non-Hodgkin's lymphoma by pesticides and solvents, brain cancer by non-ionizing radiation, Leukemia by exposure to 1,3-butadiene, and lung cancer by exposure to air pollution, and so on.
We know with considerable certainty that tobacco is a major contributor to cancer. We also know a lot about the cancer risks associated with exposure to ionizing radiation. This includes radiation from many sources --- cosmic rays, radon, X-rays, atomic bombs and above-ground nuclear bomb tests. However, the quantum of contribution from all the other causes of cancer such as diet, occupational exposures, or air and water pollution, is less certain. The estimate that diet may contribute 30-35 per cent is probably right. So, tobacco and diet are major contributors.
There are a number of occupational exposures where the scientists have been successful in decreasing harmful exposures to toxic substances -- arsenic, asbestos and benzidine, and there is some evidence that rates are decreasing for some cancers that are related to these exposures. We now know that HIV and HPV are significant risk factors for certain cancers, and the bacterium H. pylori is an important risk factor in stomach cancer.
Another area from where strong information has emerged are the health effects of physical activity and obesity -- two environmental conditions also tied to diet. For example, physical inactivity is now pretty clearly related to cancers of the colon, breast and prostate, and associations with additional cancer sites are likely to be made in the future. It's very clear that colorectal and breast cancers are linked to physical activity, and prostate, lung, ovarian and endometrial cancers are probably linked too.
The way human beings and animals are being fed and made to inhale chemicals in our environment, we can assume that every Indian has some level of these chemicals in his or her body. That shows that they are at risk to suffer health risks, including cancers. The problem with most of the 80,000 chemicals used in the production of consumer goods is that no one knows the threshold for humans. A recent acrimonious debate between the environmentalists and the cold drinks lobb on the presence of toxic substances is a case in point.
Phthalates (industrial chemicals) are found in shower curtains, garden hoses, table clothes, vinyl flooring, swimming pools, plastic clothing, children's toys, automobile upholstery, carpets, capsules, soap, shampoo, hair spray, nail polish, deodorants and fragrances. They are associated with lower sperm counts, the feminization of male genitalia in male foetuses, childhood asthma, reduced lung capacity. Avoid plastics and eat fresh food grown without pesticides — organic foods.
Similarly, BPA chemicals are found in some water bottles, baby bottles, food storage and heating containers, the lining of metal food cans, dental sealants and toys. BPA has been known to simulate estrogen and is associated with cancer and diabetes.To reduce exposure, use glass, stainless steel or polyethylene bottles instead of polycarbonate bottles; avoid heating food in polycarbonate containers; cut back on canned foods.
Polybrominated diphenyl ether is another class of chemicals found in furniture foam, textiles, kitchen appliances, electronics like TVs and computer monitors, and in the fat of some food animals. These are associated with birth defects, cancer; neonatal exposure affects learning and memory. To avoid the problem, wash your hands frequently; dust with a damp cloth; choose vegetarian food and cooking methods that need no fat. This shows how we can prevent dreadful diseases like cancer by improving our environment.
The writer is a Chandigarh-based senior gynaecologist.