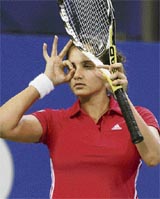 Match point in Melbourne
After a patchy 2007, Indian tennis stars need to start the New Year on a promising note with a good performance in the Australian Open, writes Vaibhav Sharma
For professional tennis players, the first test of their New Year resolutions is the opening Grand Slam of the year, the Australian Open. The action begins in Melbourne on Monday and there is a lot to look forward to at the 96th edition of the tournament. This Grand Slam boasts of a unique feature in the retractable roof and is the only one of the four majors to host indoor matches.

ZOOMING IN: Sania's focus will be on consistency and fitness.
— Photo by AP/PTI



Shera roars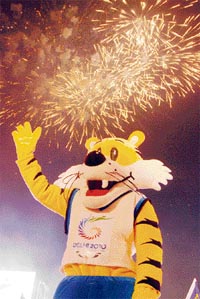 The mascot of the Delhi Commonwealth Games waves to the crowd during the logo unveiling ceremony in the Capital on January 6. The Games will be held from October 3-14, 2010. — Tribune photo by Manas Ranjan Bhui
IN THE NEWS
On a high in Hawaii
Indo-Swede Daniel Chopra liked the look of Kapalua Resort's Plantation Course in Hawaii when he first saw the hilly par-73 layout on television and in video games. After feeling comfortable all week as a player at Kapalua, he cemented his strong relationship with the venue by winning the Mercedes-Benz Championship in a playoff. "The golf course was designed by me, I'm guessing," Chopra told reporters with a beaming smile after beating American Steve Stricker on the fourth extra hole.
100 and counting
Mukesh Kumar won his 100th professional title when he emerged victorious at the Tata Open golf tournament in Jamshedpur last week. This was his second title of the season following his triumph at the IOC XtraPremium Masters at Digboi in November.
Right to referrals
Views increasingly seem to be veering round referrals as a way of minimising umpiring errors. Former England coach Duncan Fletcher was among the first ones to put forward his view that three referrals per innings be allowed to each team, where the third umpire after going through the TV replays would find out the veracity of the on-field umpire's verdict.