GMC staffer alleges harassment by DRME
Amritsar, January 15
Darshan Lal, a lab attendant, recently transferred to Government Medical College, Patiala, from the Government Medical College here, has alleged that he was being harassed by the director, research and medical education (DRME), Dr J.S. Dalal. He has written to the Prime Minister, the Ministry of Home Affairs as well as the Chief Minister demanding withdrawal of the decision to transfer him to Patiala.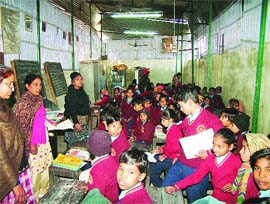 This school needs more than assurances
Amritsar, January 15
Nishkam Sewa Public School, a unique school for rag-pickers is waiting for the grants promised by political bigwigs in the holy city. A brainchild of Sardara Singh, a retired FCI employee, the school could have set another example for the city institutions - after Citizens' Forum Vidhya Mandir in Maqboolpura, infamous as the locality of widows due to rampant drug menace.
The ragpickers' school is a brainchild of Sardara Singh, a retired government staffer. — A Tribune photograph
Girls help zoom sales
Amritsar, January 15
Nearing the closure of financial year, sales in most sectors have shown an upward trend. Zooming sales in jewellery, garments and home utility items are not merely the outcome of dynamic sales strategies of corporate concerns but the fact that well-turned-out girls are taking over the "sales segment" of the retail outlets in a big way.
Food Feast
Ram Bagh may get McDonald's, Pizza Hut
Amritsar, January 15
The municipal corporation has finally woken up to the plight of its cafeteria situated in Ram Bagh. Set up as part of the Maharaja Ranjit Singh Panorama, it has been lying locked for over two years. Finally, the decision has been made to rent out the "prime location" to reputed companies like McDonald's or Pizza Hut to develop the cafeteria into an eating joint on a large scale.
4,042 get free legal aid
Amritsar, January 15
Presiding over the quarterly Lok Adalat, district and sessions judge-cum-chairman of district legal services authority SP Bangarh said as many as 4,042 persons were provided free legal services in the district.
Campus Buzz
Refresher course in commerce ends
Amritsar, January 15
"India is a dynamic country but we are marching towards commercialisation where there is no dharma and duty towards society. The net result of our development is dehumanisation and exploitation."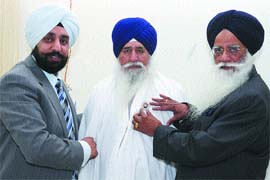 Canadian Sikhs present broach to Vedanti
Amritsar, January 15
On behalf of the Sikh diaspora in Canada, the Shiromani Akali Dal, Canada, presented a broach inscribed with Khanda Sahib, the symbol of Sikhs, to Giani Joginder Singh Vedanti, Jathedar of Akal Takht, here on Tuesday.
Kehar Singh Gill, president of the Canada unit of the SAD (right), and Inderpal Singh Athwal, general secretary (left), present a diamond-studded broach to Giani Joginder Singh Vedanti in Amritsar. — A Tribune photograph
Spring Dale wins space settlement design competition
Amritsar, January 15
A team of 12 students and two teachers of Spring Dale have made the city proud by winning the fourth annual Asian Regional Space Settlement Design competition held at Gurgaon from January 9 to 13. Disclosing this, Manveen Sandhu, principal of the school, said the team was awarded a trophy depicting Chandrayaan-I, India's first mission to moon.


Arvinder Bhatti
An artiste, philanthropist...
Amritsar, January 15
Arvinder Bhatti, an artiste and a philanthropist, has carved a niche for himself in society by holding blood donation, eye and medical check-up camps and other social, religious and cultural functions.
Oracle to open outlets in region
Amritsar, January 15
The Singla group will soon be opening six to 10 exclusive retail outlets of the "Oracle" company in North India and is planning to tie up with multinational companies.