Healthcare top govt priority: Sukhbir
Faridkot, January 15
Member of Parliament from Faridkot, Sukhbir Singh Badal, who is also working president, SAD (B), blamed the previous Congress governments at the Centre and the state for not giving due importance to healthcare.
Cong flays Sukhbir for tall claims
Bathinda, January 15
Condemning the SAD (B), Congress workers on Tuesday issued a press note in which they alleged that acting chief of SAD (B), Sukhbir Singh Badal, had been making false claims to the people. Harminder Singh Jassi, MLA, Bathinda, alleged, "Ten months after coming to power, the present government is still making only tall claims."
155 medical specialists to be recruited: Laxmi Kanta
Ferozepur, January 15
The state government would soon employ 155 medical specialists and the PPSC has been instructed to carry out the recruitment formalities in this regard, said Laxmi Kanta Chawla, Health Minister, while laying foundation stone for the new waiting lounge and mortuary cell on the premises of the Civil Hospital here today.
Venue: Shooting Range, Badal village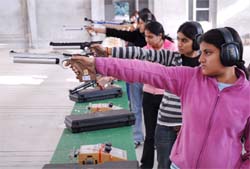 Women's shooting contest from Feb 4
Badal (Muktsar), January 15
Nearly 250 shooters from across the country will vie for the top position at the 1st All India Women Air Weapons Shooting Championship, which will commence from February 4 at the newly state-of-the-art shooting range at Badal village in the district.
Shooters from Punjab prepare for the upcoming air weapons national meet in Badal. —Tribune photo by Malkiat Singh
DSP's son among two held for looting
Moga, January 15
A local court sent Phamanjit Singh, son of DSP (Vigilance) and his accomplice Ishpreet Singh to police remand for looting Rs 28,000 from a person, today.
MC official suspended
Abohar, January 15
Diwan Chand Verma, executive officer of the local municipal council, had been placed under suspension, sources said.
Teachers stage protest
Barnala, January 15
The Punjab and Chandigarh Teachers Union held a demonstration in support of their long pending demands, before the office of the deputy commissioner, here today.
Symposium on short story collection
Barnala, January 15
The Likhrai Sabha of Barnala organised a symposium on short story collection, "Tai Hina challi gai", penned by Sharnjeet Kaur, at the Bansal Charitable Trust, here today. In his presidential address, Sahit Shiromnai award winner novelist, Om Parkash Gasso, said that the main role of a writer was to make society sensitive towards its rich values, but the sorry state of affairs was that today's polity was heading towards consumerism.
Writer passes away
Abohar, January 15
Mohan Lal, a noted writer, who had introduced Bashir Badr to Hindi readers by compiling and publishing the first collection of gazhals penned by him is no more. He was cremated at Muktsar, where he had recently shifted from Abohar on Monday. The 70-year-old writer had died of cardiac arrest, family sources said today.
Journalist Kamal Nagpal is no more
Abohar, January 15
Kamal Nagpal, editor-in-chief of the Partap Kesari, published simultaneously from Abohar and Sriganganagar, died today in Sriganganagar. He was 53.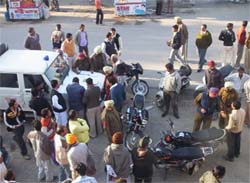 Cops launch drive against hoodlums
Fazika, January15  
Motorcycle borne ruffians have unleashed a rein of terror in Fazilka town these days. Youths from the town and nearby villages, throughout the day, drive their bikes at high speed and blow hooters and dauntlessly flout traffic rules.

Fazilka police initiated action against rash driving in the city. —A Tribune photgraph
I-T team surveys hospitals
Bathinda, January 15
To verify the accounts of some private hospitals in the city, the Income Tax department conducted a survey at three hospitals on Tuesday.
Sumit excels in examination
Bathinda, January 15
The Harbhajan Institute took an entrance test ' IIT Target' and declared its result on January 10. In this test, Sumit Kalsi bagged the first , Gunjan second and Tushar Bansal got the third positions. And in the 'IIT Foundation' test, Munish Garg got the first position, Rimmi Garg bagged the second position and Sagar stood third.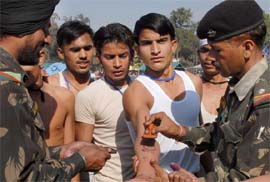 Recruitment rally: Addiction taking shine off hopefuls
Bathinda, January 15
After two days of rumpus, it was a more orderly scene at the Army recruitment rally here today as about 6,000 youth were short-listed after screening and were issued tokens.
Aspirants getting stamps on thier hands at Army recruitment rally in Bathinda. —Tribune photo by Malkiat Singh
Price rise keeps away gold buyers
Bathinda, January 15
With the Punjabi marriage season at its peak, gold prices on Tuesday touched a record Rs 11,615 for 10 grams in the markets. It marked a sharp increase of more than Rs 300 over what the metal had traded in the market on Friday.
Co dupes investors of lakhs
Bathinda, January 15
A company based in South India has allegedly cheated investors of Rs 70 lakh in Bathinda. A five-member group of 'Mada the Trader' used to promise investors that their money would double. Around one month back, they took three shops on rent in 'Chandsar Basti' and kept furniture, electronic goods and household items for sale.