Jan 25: Sukhbir to go on stone-laying spree
Amritsar, January 18 Shiromani Akali Dal acting chief Sukhbir Singh Badal would lay the foundation stones of 15 different development projects in Majitha constituency on January 25.
2008: They'll take another 7 yrs to celebrate
Amritsar, January 18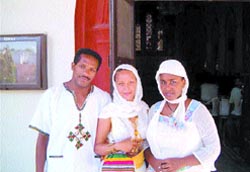 The city might be done with the New Year celebrations but for the Ethiopian students, enrolled in the GNDU and various local colleges, 2008 is still a distant reality. The Ethiopian calendar is nearly seven-and-a-half years behind the Gregorian calendar. It means Ethiopians are still in 2000, having welcomed the new millennium on September 12, 2007.
Ethiopian students at GNDU say their national calendar is around seven years behind the Gregorian one. A Tribune photograph
New malaria vaccine being developed
Amritsar, January 18 A lecture on 'Structural insights into malaria parasite proteins: Implication for drug and vaccine discovery' was delivered by Dr Amit Sharma during the Sardar Jaswant Singh Rai memorial lecture at GNDU here on Friday.
City school's 'techno travel' will go places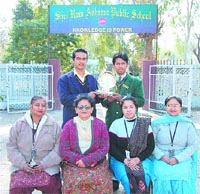 Amritsar, January 18
The science model 'Techno travel' of Shri Ram Ashram Public School has been selected for the national level competition during the Northern India Science Fair-2008 at Delhi. The event was organised by the National Council of Science Museum. Giving details, school principal Preeti Sharad said the model is creation of two students Raviraj Seal (class XI) and Sahil Mahajan (class IX) and two faculty members.



The science model has been prepared by Raviraj Seal and Sahil Mahajan of Shri Ram Ashram Public School.
'Moving ahead of time is new management mantra'
Amritsar, January 18 Hard work and commitment are the only ways to achieve success in life and one has to move ahead of time in order to cope up with the new management trends emerging in the global economic scenario.
Campus Buzz
Korfball tourney takes off
Amritsar, January 18
More than 12 teams of about 200 players are taking part in the All India Inter-University Korfball Championship, which kicked off at Guru Nanak Dev University here on Friday.
Bhawna, Prabhjot excel in essay contest
Amritsar, January 18
Bhawna, Class XII student of Saraswati DAV School and Prabhjot Kaur Class IX student of Police Public School won the Tata Unnat Bharat Nibandh Spardha, a Hindi essay competition, in the senior category.