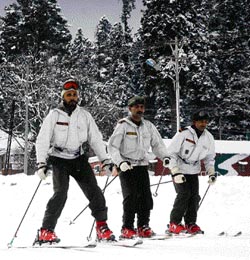 On the vigil:

Officers of High Altitude and Warfare Snow of the Army have their task cut out after Gulmarg, 55 kms from Srinagar, witnessed snowfall on Saturday. — Tribune photo by Mohd Amin War
NC burns minister's effigy
Jammu, January 19
Protesting against acute water shortage in Jammu West assembly constituency National Conference (NC) activists led by district president Chander Mohan Sharma today burnt an effigy of PHE minister Mohammed Dilawar Mir here. Shouting slogans against PHE minister and PHE chief engineer, NC activists described Congress-led coalition government as an utter failure in providing even the basic amenities to the people.
Illegal LPG sale outlets in great demand
Jammu, January 19
There are several hundred unauthorised LPG sale outlets in the state and more importantly, their sub-dealers have been appointed by none other than the owners of registered sale outlets to supply cylinders to their customers.
Govt clears industrial proposals
Jammu, January 19
The Jammu and Kashmir Government has cleared 104 industrial proposals worth Rs 2,116 crore for medium and large sectors during the past three years. This was disclosed during the Apex Project Clearance Committee (APCC), meeting held here last evening. The meeting was presided over by Chief Secretary B R Kundal.
Land for memorial
Jammu, January 19
Family members of late Vishwa Mitter Bakshi, a former IPS officer and a reporter with The Tribune, have donated two kanals of prime land in the picturesque valley of Sanasar to the police department. The revenue record and other relevant papers were handed over to the director-general of police (DGP), Kuldeep Khoda, by his son Swadesh Mitter Bakshi. Late Vishwa Mitter Bakshi was a former deputy inspector-general of police (DIG).
Govt approaches Centre to open road
Jammu, January 19
The state government has taken up the issue of opening the Balnoi-Tatapani route with the Centre to facilitate the easy movement for families who got separated during the partition.
E-literacy for girls
Rajouri, January 19
For the uplift of girl child, 25 Rashtriya Rifles (Madras) under the aegis of six Sector Rashtriya Rifles has introduced e-literacy courses at their vocational training centre at Daraba area in Poonch.
60 years and still refugees
Jammu, January 19
This might be quite unprecedented in the history of the subcontinent. While millions and millions of people who migrated between India and Pakistan at the time of partition, and settled down wherever they chose to, a few lakhs continue to live with a "refugee" tag. Their only fault - they don't know where they belong to.
Labour rivalry hits railway work
Udhampur, January 19
On-going tension between two rival groups of labourers has hit the work on Katra-Qazigund railway project. One group led by the CITU has launched an agitation against discriminatory policy of the Konkan Railway-engaged in the construction of this project. Another group of the labourers has been opposing CITU moves.
Tough going for strawberry growers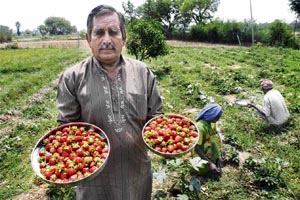 Jammu, January 19
Strawberry growers in Mahabaleshwar export the red juicy fruit to France and Belgium but their counterparts in the Jammu region, who made this cash crop a success story in the state have been left high and dry, thanks to a nonchalant state government. After sustaining losses worth over Rs 1.50 crore due to rains and hailstorm in March last year and no relief from the state government, this year strawberry growers of the Jammu region find the going tough.
Strawberry grower Sham Singh shows the damaged crop in his field in Samba. — Tribune photo by Anand Sharma

Rocket projectile seized
Srinagar, January 19
The police today seized a rocket projectile from an orchard near Khiram village. Police sources said they were inquiring into the matter. The recovery of explosives has alerted the cops as militants often try to make their presence felt during days preceding the Republic Day.
Railway body submits memorandum
Jammu, January 19
The Railway Passengers' Welfare Association today submitted a memorandum to DTM, Jammu, A.K. Mitto requesting Railways Minister Lalu Prasad Yadav to drop proposed move of cancelling halt of some passenger trains at stations on the Jammu-Pathankote section.