Lost hopes, shattered dreams
Kusum Arora
Tribune News Service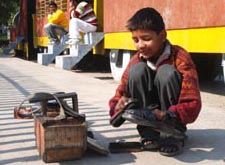 Despite ban, the practice of child labour goes unabated in the city. — A Tribune photograph

Jalandhar, January 24
It has been more then a year since the Child Labour Prevention Act was amended on October 10, 2006, banning children below 14 years of age to work as helps in households, dhabas, restaurants, hotels, and other hospitality sectors. However, not much seems to be changed, as one can easily spot children working, often in miserable condition, in various establishments.
According to the information available with the labour department, there are 3,720 child labourers in the district, out of which 1,615 are females. Majority of these labourers are from states like Bihar, Uttar Pradesh and Uttrakhand. On the condition of anonymity, one of the department officials admitted that the number of child labourers has increased in the city.
The kids generally work at roadside tea stalls, garages, repair shops, handlooms industry and sports goods manufacturing units. Their average earnings are somewhere between Rs 200 and Rs 400 per month. However, Project director, National Child Labour Project and assistant labour commissioner, Inderjeet Singh said, "It is not that department is not working. Regular raids have been conducted to keep a check on this menace and till December 2007 as many as 116 employees have been challaned. Besides, we try to motivate parents to allow their children to join the NCLP Schools." Interestingly, there are around 3,193 children studying in these evening schools.
He said the department has identified 3,299 child labourers till date. "Out of these 678 worked as domestic workers, while 1,254 were found working in sports goods manufacturing units. Besides, 153 were employed in hotels, whereas 318 were working as helpers in shops. Apart from these, 515 have been spotted working as rickshaw drivers, rag pickers and 381 were spotted working in other establishments.
When asked about the number of children working right under the nose of the district administrative complex the assistant labour commissioner said, "We are helpless as the kids do not want to loose their job and the owners generally direct them not to reveal their ages."