The end of imagination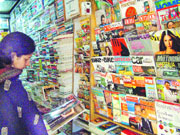 Jalandhar, January 29
Imagination has been the foundation of almost all the things that we see around us. It was basic hints like trees, birds, lightning or even a tea kettle which brought mankind to the threshold of creation of sophisticated implements and means.

A woman checks out a magazine at a book store in Jalandhar. — Photo by S.S. Chopra
Development works still a dream for this area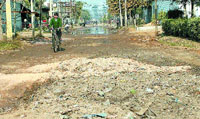 Jalandhar, January 29
The Focal Point Extension, home to some of the big industries and export houses in the city, is a complete picture of neglect. Considered as business hub, this recognised industrial zone lacks basic amenities, including streetlights, sewerage and roads. The successive governments have done nothing apart from making tall promises.
The absence of proper sewerage has turned the roads in the Focal Point Extension area in Jalandhar into a slush. — Photo by S. S. Chopra
Doling out help for 2 decades
Jalandhar, January 29
The Hind Sewa Samiti, a city based NGO, has been serving society for the past 19 years. Set up in 1989, the samiti has been providing ration regularly to 18 needy families of the city for several years.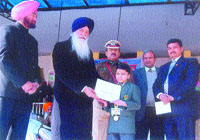 Young World
Students pay tribute to nation
with 'India Week'
Jalandhar, January 29
Mayor World School paid tributes to the nation by celebrating "India Week". Students participated in a week-long series of competitions which began with a dance performance in "nritya utsav" by students of different classes.
Aakarshan Gupta, a student of MGN Public School, being awarded at the Republic Day function at Guru Gobind Singh Stadium in Jalandhar.