| | | |
| --- | --- | --- |
| | CHANDIGARH | |
PANCHKULA
Police custody: The court of chief judicial magistrate Anshu Shukla sent the two accused — Raju and Satyawan — in the Barwala dacoity case in police custody for six days on Sunday. The duo was arrested from Kala Amb in Himachal Pradesh yesterday. The accused, belonging to Bawaria community, along with six accomplices, had allegedly injured 11 persons and looted four houses at Batod village, near Barwala, on the intervening night of October 7 and 8. One of the injured, Telu Ram, had later succumbed to his injuries at PGI Chandigarh.
Khaitan counters: Entering into the retail sector in the region, Khaitan Electricals Limited inaugurated its counters - Khaitan City and Khaitan Fantasy - at Sector 8 on Sunday. While Khaitan City would be the one-stop shop for all Khaitan electrical and non-electrical products, Khaitan Fantasy outlets would provide a complete range of premium under light fans.


| | | |
| --- | --- | --- |
| | HARYANA | |
Kurukshetra
Blood donation camp: A blood donation camp, which was organised by the NSS wing of the National Institute of Technology (NIT), Kurukshetra, with the support of LNJP Hospital here, was inaugurated by NIT director Dr M.N. Bandopadhaya on NIT campus here on Sunday. According to NIT spokesman Dr Dixit Garg, at least 100 students donated blood. Bandopadhaya laid stress on the need of blood donation.
Demonstration held: Members of the INLD women wing took out a procession and held a demonstration in protest against the black marketing of kitchen gas and shortage of electricity here on Friday. Hundreds of women party workers raising slogans converged at Jat Dharamshala and marched in a procession up to the old bus stand here, where they burnt the effigies of Prime Minister Manmohan Singh and UPA president Sonia Gandhi. The protesters led by the state president of the INLD, women wing, Kailasho Saini, submitted a memorandum to additional deputy commissioner Narender Singh addressed to the Haryana Governor.
REWARI
Student killed: A girl student, Madhu (13), was killed when the bicycle she was riding was reportedly hit by a trailer near Gujarghatal village, 22 km from here, on Saturday. The mishap occurred when she was returning home from school. The police has registered a case under Sections 279 and 304-A of the IPC against the trailer driver, who reportedly absconded after the accident.
Birth anniversary: A function was held under the auspices of the Youngmen's Association of India to mark the birth anniversary of Dr Ben Weider, founder president of the International Federation of Body Building and Fitness, here on Saturday. Sangeeta Yadav (music), Dr S.K. Sharma (education), Dr N.S. Yadav (pediatrician), Prof R.C. Sharma and Satyavir Naharia (literature) Ram Nath Mahlawat (journalism), Davender Poswal (sports) and several others were honoured with Dr Ben Weider award on the occasion for their distinguished work in their respective fields.
Medical survey: Dr S.K. Chugh, senior cardiologist of Apollo Hospital, Delhi, has said according to recent medical survey, one person among every four persons was a heart patient. He stated this on the occasion of initiation of super specialities of cardiology, neuro surgery, plastic surgery and joint replacement in Arvind Yadav Hospital here on Saturday. He opined that this upward trend in heart ailments was mainly due to the fast changing lifestyle as well as lack of physical exertion.
Memorandum submitted: Bharatiya Jain Milan (BJM), a voluntary organisation of Jain Samaj, has taken a strong exception to the inclusion of egg in the list of articles of food to be supplied to children at anganwaris in Haryana. Seeking its immediate exclusion from the children's menu, a deputation of the BJM submitted a memorandum to the deputy commissioner here on Thursday. The activists, led by BJM's regional secretary Ajit Prasad Jain, said according to foreign food analysts, the consumption of egg, which was something alien to vegetarian diet, often led to incurable ailments.
SONEPAT
Youth's body found: The half-burnt body of a youth was recovered from outside Nuran Khera village in the district on Saturday. The deceased was identified as Balkishan. According to information, the deceased, after renouncing his family, had consumed liquor along with one Ranbir of the same village. However, an altercation took place between them, following which Ranbir allegedly assaulted him with an axe. He allegedly torched the body and fled from the spot. A case has been registered against Ranabir.
YAMUNANAGAR
20 get degrees: Twenty graduates of the TDTRD DAV Institute of Physiotherapy here were awarded their degrees during the institute's second convocation and decade celebration function held at DAV Girls College on Friday. Dr Kishen Chand was the chief guest at the function. Others who were present on the occasion included Dr Sushma Arya, principal of DAV Girls College, Dr Jitender Sharma, principal of DAV College of Physiotherapy, Jalandhar, Dr Vimal Miglani, director, MDM General Hospital, Vijay Kapoor and Dr I.K. Pandit, principal of the institute.



| | | |
| --- | --- | --- |
| | HIMACHAL PRADESH | |
BILASPUR
Bus service: BJP Kisan Morcha vice-president Ram Krishan Sharma and representative of various panchayats have thanked the Chief Minister, the transport minister and the local MLA for launching a bus service from Namhole to Delhi via Jukhala. They said this would facilitate easy carriage of their cash crops and greenhouse products like off-season vegetables and flowers to the markets of Chandigarh and Delhi.



Delivering results

Manisha Bajaj
This family planning activist delivers results of another kind too. President of the Family Planning Association,Yamunanagar branch, Manisha Bajaj, took up studies after 12 years and came out with flying colours, topping the Kurukshetra University in MA (social work) this year. "I had been associated with social work for over a decade and then I thought: why not have a degree in the same?" says Bajaj, who implemented the Ford Foundation-sponsored programme of the International Planned Parenthood Federation (IPPF), London, on 'reproductive rights and community action: an exercise in social accountability' in 23 villages of the district.
"The project was successfully implemented and I made a film funded by the IPPF, 'Kadwa Sach,' based on the reproductive rights of women which has now become a tool for all 150 member countries of the federation," says Bajaj. This mother of a 12 year old and wife of charted accountant Himanshu Bajaj has become a known face among the women living in 655 villages of the district.
Besides taking care of her family, working among the rural masses and interacting with civil officers for the implementation of FPA programmes, Bajaj is busy these days preparing for her presentation to be given at all-India NGO submit to be held in Banglore later this year.
She has represented India at a 'methodology workshop on reproductive rights of women' at New York, USA, and was also elected vice-president of the FPA.
Regarding her experience with the villagers, Bajaj, daughter of an army officer, says: Rural folks are just like blank sheets, you have to just fill the right figures on it and they will understand. She is of the view that it is easier to educate the rural population about female foeticide, girl child education and hygiene than the urban people.
"A majority of the urban people think themselves to be educated, smart and aware about social crimes, but they are the ones more responsible for the declining sex ratio. Theirs is a close-minded approach," adds Bajaj.

Pedal pushers
The students of several colleges took out a cycle rally at Hisar to mark 2008 as the Year of the Cycle. The rally was organised by the local Brahma Vidyalaya, Rotary Central, Save Earth Save Humanity Mission (SESHM) and the National Service Scheme units of the local colleges.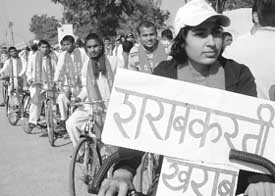 Students taking out a cycle rally at Hisar to create awareness on social issues. — Tribune photo by P. L. Munday
The idea behind the event was to spread awareness about pollution and social evils such as consumption of liquor. The idea originated after Chief Minister Bhupinder Singh Hooda donated Rs 1 lakh to the Vidyalaya to buy bicycles for its students so that they could go to nearby villages and help spread word about vedic culture. About 150 students joined the rally which started from the Brahma Vidyalaya and ended in Model Town.
The students carried placards urging people to shun liquor, save petrol and
use bicycles. The rally was led by Rattan Dev Jangra, who has created many records by covering hundreds of kilometres walking backwards.
Additional deputy commissioner Ashima Brar was the chief guest at the concluding function.
She said fossil fuel stocks would be finished one day. At that time people would have to use bicycles. So, it was better to make a beginning right now and help reduce pollution also. Besides, cycling was a great exercise to keep physically fit.
Contributed by Nishikant Dwivedi and Raman Mohan